Three teams are setting a fiery pace in Group Orange with Barkisland, Honley and Moorlands all notching back-to-back victories to lead the table. Luke Bridges was on form for Barkisland as they held off Thongsbridge whilst Moorlands outmuscled their hosts Broad Oak and Honley dug deep for their second consecutive win at home to Armitage Bridge. In Group Yellow, Kirkburton, Elland, Slaithwaite and Mirfield Parish Cavaliers all won on their travels. Group Red had two nail biting finishes with Skelmanthorpe and Holmfirth sneaking home and in Group Green; all three 2XI teams gave plucky accounts of themselves with two of them picking up their first wins.
Group Orange
Luke Bridges and Matthew Weston put together a match-winning partnership to maintain Barkisland's unbeaten start to the season as they held firm at home to a Thongsbridge side who were missing dependable opening batsman Ben Raven-Hill. A 71-run partnership between opener Weston (40) and Bridges (56) laid down a substantial foundation which helped them set 163-7 batting first. Thongsbridge bowlers Zafar Iqbal (2-12) and Ben Balmforth (2-20) kept things tight in the opening stages but other bowlers found the going tough once Weston and Bridges dug in stubbornly. The visitors had an uncomfortable start to their reply as Barkisland made early inroads and left Thongsbridge floundering somewhat on 44-4. Tom Raven-Hill (39) and Balmforth (44) grafted a 72-run partnership themselves for the fifth wicket which turned the tide and put the tie in the balance. Max Didgiunaitis (1-21) made the key breakthrough by dismissing Raven-Hill with Balmforth following shortly after. From that point the hosts turned the screw with Jake Finch (4-29) applying telling pressure at a crucial time. Thongsbridge closed on 145-9 in a 18-run defeat which leaves them still searching for a first win.
Harvey Booth's season is off to a red hot start as he registered a half-century to go with the excellent ton he scored on the opening day. Surprisingly, this hasn't been enough for his team to collect a win so far as they came off second best at home to Moorlands. Booth (60) got Oak off to a flyer but Moorlands hit back hard restricting the home team to 152-5. Moorlands overcame that with a reply of 154-6 after 28 overs.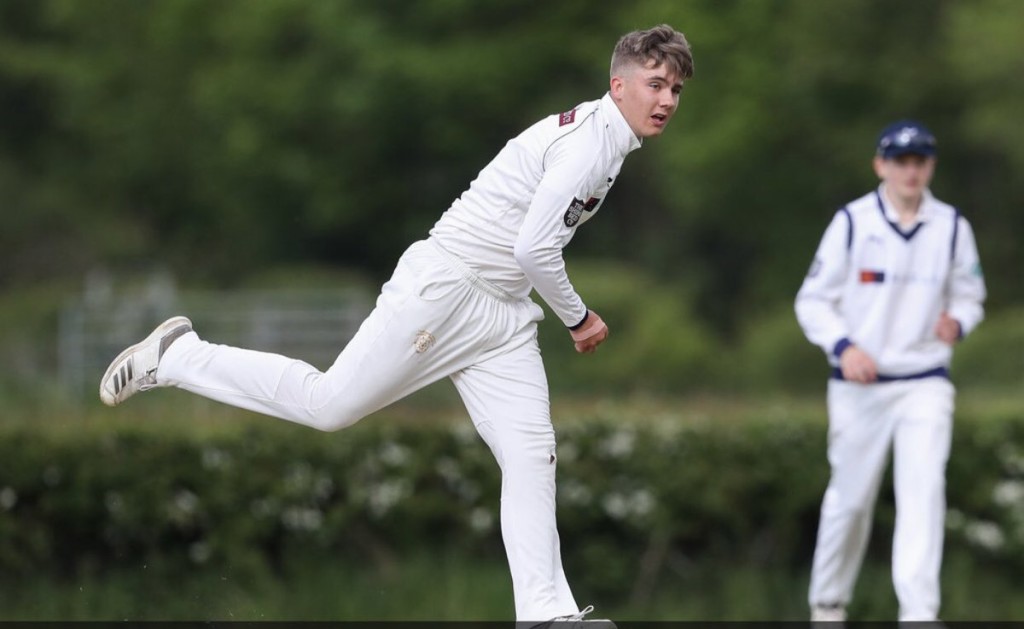 Archie Greaves picked up three wickets for Honley. The Yorkshire Academy product has settled in well in his second season with the Far End Lane club
Honley rode a turbulent period at home to Armitage Bridge to make it two wins from two. After losing the toss, Armitage Bridge found the going tough at Far End Lane as opening bowler Archie Greaves (3-13) kept his opponents firmly in his sights. Sam Atkin (26) hit the highest notes for visiting Bridge with Jaycub Curtling (24) and Jack Ingham (23) adding useful runs to take them to 125-8 but in hindsight ten or twenty more runs to defend would have been desired. Jamie Hopper (4-14) gave the home side plenty to think about as he single-handedly left them in tatters on 16-4 until Simon Kelly (35) and Lewis Kenworthy (33) combined for a 59-run partnership that slowly turned the tide. Two quick wickets put more pressure on Honley but Kelly's stoic resistance anchored his team's reply. Despite Curtling removing him for the seventh wicket, Sam Denton (10no) and Tim R Taylor (12no) made sure of a Honley win on 128-7 with 15 balls remaining.
Dan Wood was in crushing form for Shepley as they dominated at Chapelgate against Scholes. The hosts elected to bat first but looked to be on the back foot for most of the innings as they struggled for runs against the juxtaposed blend of youth and experience opening the bowling for Shepley. Bright young prospect George Booth (2-10) took early wickets and despite an impressive performance by Scholes skipper Bradley Birkhead for a run-a-ball 69; were always under the cosh. Danny Glover (4-45) seized on Scholes' vulnerability as they could only make 148ao from their 30 overs. Prolific Shepley opener, Wood (70no) then dictated the reply with his input coming off 63 balls with 8 fours and 4 sixes. Skipper Greg Wood (32) and Max Joice (26no) provided useful contributions as Shepley waltzed home with minimal fuss on 150-2 with ten overs left to play.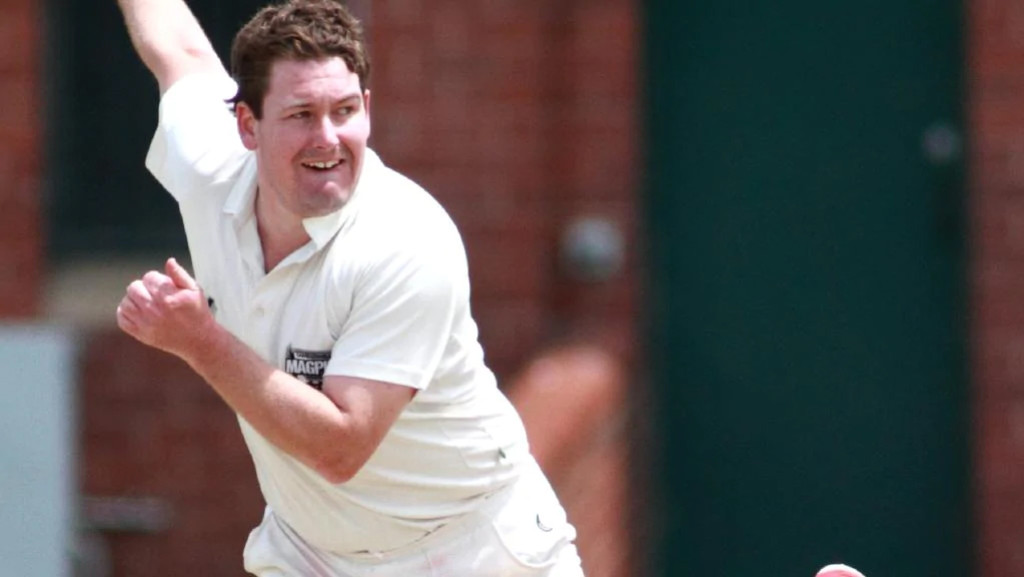 Golcar captain Jack McNamara contributed strongly in an away win at Delph & Dobcross. He scored 30 runs and took two wickets in Golcar's first victory of the season.
Delph & Dobcross regretted missed opportunities as they slumped to defeat at home to Golcar. Umer Yaqoob (4-11) was typically clinical when dealing early blows on the visitors until it took a dogged 68-run stand between skipper Jack McNamara (30) and Steve Whitwam (37) to redress the balance. After Delph fought back by removing them, Dan Woodhead smacked a quick 29 off just 11 balls to boost Golcar's flagging total to 142ao. Delph's youth development strategy hit a snag as they lost young batsmen Harry Partington and Xander Selby in the second over to smart bowling by Jay Cyrus (2-13). After fighting back themselves via Nathan Jones (21) they were dealt a fatal jolt by conceding three wickets for as many runs. Wickets then began to tumble as Golcar held onto catches when the hosts attempted to push for a win. The capture of home skipper Alex Peters (15) signalled the end as Delph eventually succumbed on 96ao with seven overs left to play. McNamara (2-15), Pearson (2-32) and Whitwam (2-13) all made welcome contributions as Golcar returned home with their first win of the season.
Group Yellow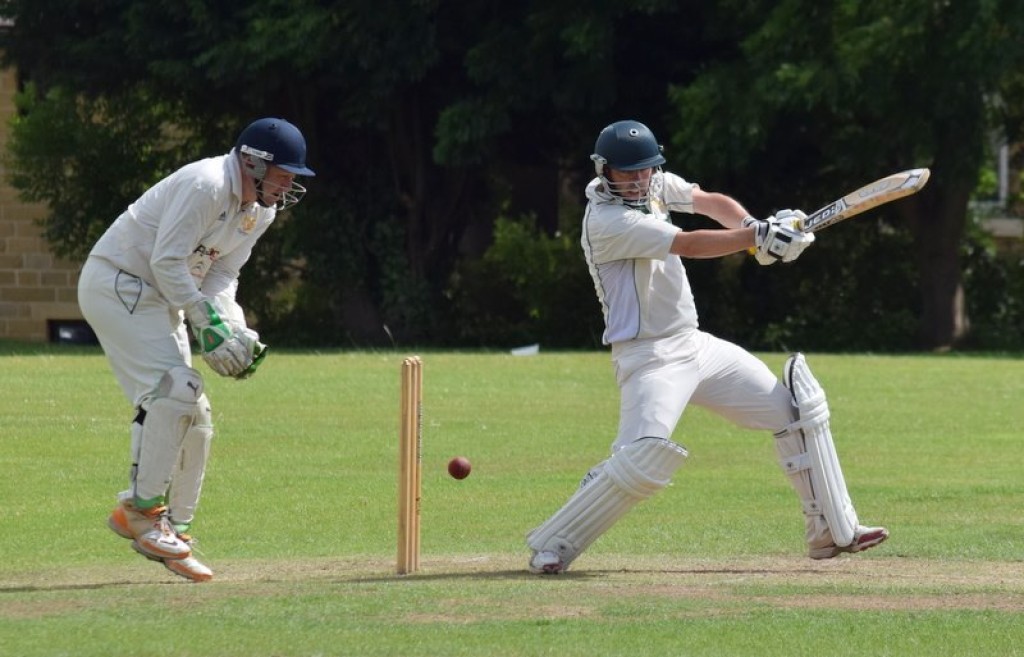 Dave Berry joined forces with son Evan to help down Meltham. Dave Berry scored 23 runs before he and Evan took seven wickets between them for Slaithwaite to scupper Meltham's reply.
Sam Carroll (57no) and Ben Carrington (68no) enjoyed an unbeaten 125-run partnership for Kirkburton as they stayed unbeaten after two matches by winning away at Clayton West. Aaron Moore continued his good start with another three wickets as Burton easily chased Clayton West's 161ao total for the loss of two wickets. Family ties saw Slaithwaite come out on top in a local derby against Meltham thanks to fine bowling performances by Evan and Dave Berry. Son Evan (4-20) and father Dave (3-18) ensured Meltham shuddered to a halt chasing Slaithwaite's 132-9 by finishing 105ao in reply.
Greg Alexander proved the difference for Elland's benefit as they racked up a second win away at Marsden. Alexander (2-19) followed up by hitting an unbeaten 20no to ease the visitors home as they overcame Marsden's below par 103-7 for the loss of four wickets. Mirfield Parish Cavaliers made heavy going of it away at Thurstonland for whom captain Russell Mottram scored 85no in a 153-8 total. Without a diligent 46 by opener Shan Devraj, Thurstonland may have come out on top but contributions throughout the order for Parish was enough to win with 11 balls and three wickets left.
Cosmond Walters made a distinct impression for his new club Shelley on his home debut. The West Indies overseas, who helped Slaithwaite to promotion in 2019, was instrumental by slamming a savage 61 off 28 balls to topple Lascelles Hall after he earlier took four wickets to restrict the visitors to 140ao. Shelley were victorious by seven wickets replying with 143-3 with ten overs remaining.
Group Red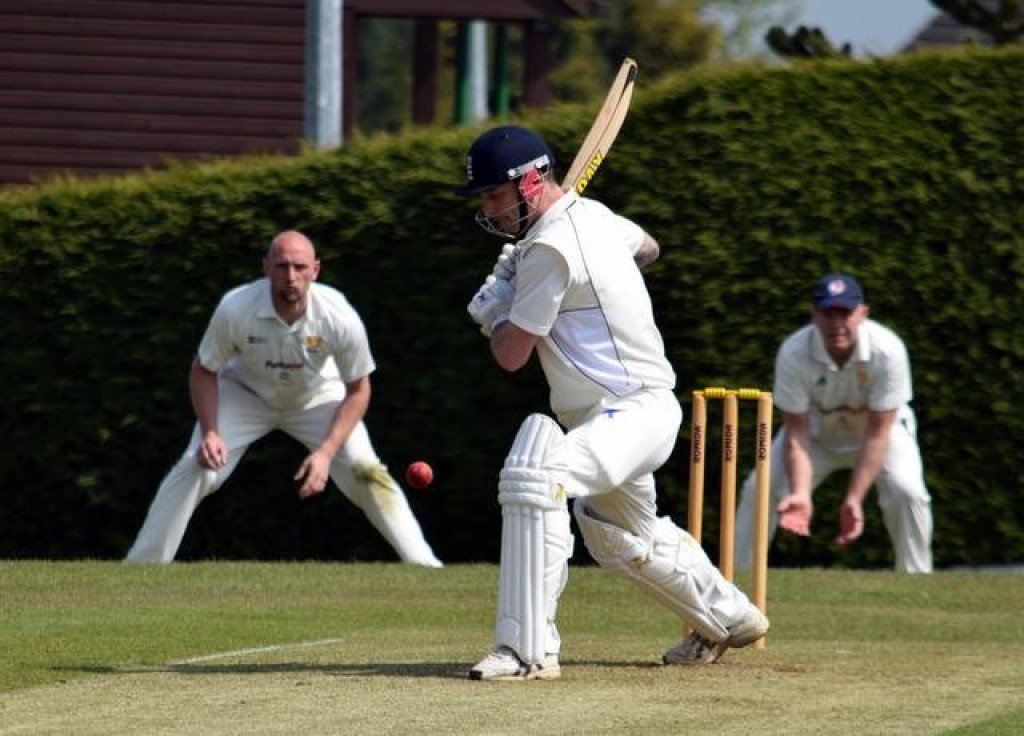 Vastly experienced Ryan Robinson shined on his home debut for Skelmanthorpe. his 2-8 polished off the Almondbury Wesleyans tail before a crucial 30 with the bat anchored a successful reply, won on the final ball.
Ryan Robinson once again proved his worth in a fabulous one-wicket win for his new club Skelmanthorpe - his fifth club in an illustrious Huddersfield League career spanning more than twenty seasons where he's scored 15,000 runs and taken over 300 wickets. He took two wickets here for 8 runs as Wesleyans reached 153-9 batting first with opener Bryn Jenkins (41) top scoring for the visitors. Robinson (30) then lent his reassuring experience to a Skelmanthorpe reply that was occasionally in danger of slipping off the rails. Even though he was out with 16 runs left to chase; the hosts weathered the pressure well enough to sneak home on the final ball with skipper Allan Greenwood (11no) stroking home a four.
Tom Sanders seems to have accepted the responsibility of captaining Denby into his stride as he fired his side to a win away at Rastrick. Sanders (92) hit 7 fours and 6 sixes in a 90-ball innings that helped propel the visitors to an daunting 184-4 batting first. Rastrick to their credit gave as good as they got in reply with a half-century for Singh (54no) but Sanders (2-28) chipped in with several of his teammates to hold the home team short on 171-7.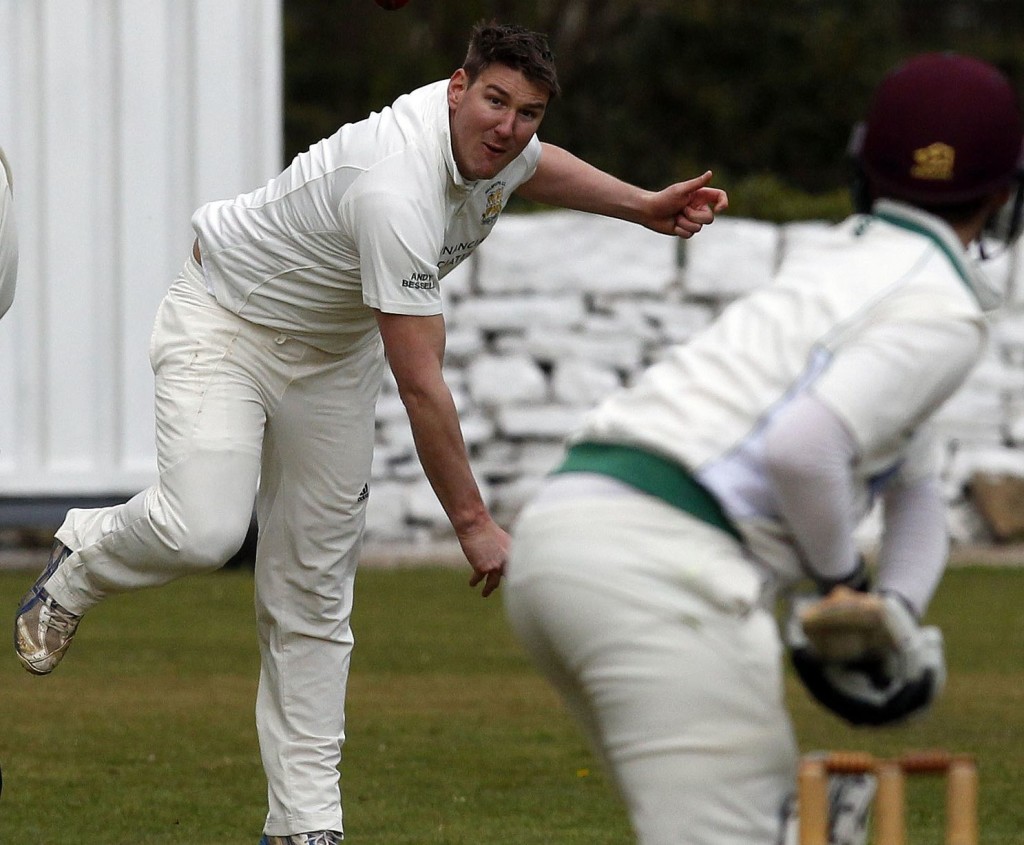 Max Gummerson was the glue that held together Holmfirth's performance in a win away at Lepton Highlanders. "Gummy" as he's known, stuck around with a half-century and added wicket as Holmfirth won by four runs
Max Gummerson ushered a youthful Holmfirth side to a win that made up for a defeat on the opening day. Gummerson (58) slayed Lepton Highlanders with the bat in their 168-9 first innings total, before leading the line with the ball. Hosts Lepton, driven by Adeel Ashraf (68), took them to within 15 runs of victory with four wickets in hand. They reckoned without intervention by Simeon John (7-32) who took three of those final wickets to leave Highlanders all out four runs shy.
Emley Clarence's loyal servant Jon Lee was the difference when they eased past Almondbury at Ferndale. Lee's three wickets kept the hosts under control on 131-6 batting first before he went on to score an unbeaten 32 in the follow-up as Emley hit a winning 135-6 reply with 20 balls in the tank.
Group Green
Honley and Delph & Dobcross proved their second teams aren't there just to make the numbers up this term as both picked up victories against 1XI opposition away from home. Delph 2XI needing five runs off the final over of the match at Hall Bower were grateful for the vastly experienced Louis Aspeling (53no) who shot a six off Faisar Siddiq's bowling at the death. Earlier Bower posted 141-7 with Aspeling (2-6) in the thick of things with the ball. Honley were victorious by six wickets and two overs spare away at Kirkheaton.
Zahed Ahmed was on point with a brilliant all-round performance to see off visiting Upperthong. Ahmed (68no) followed his thirty overs in the middle by taking three Upperthong wickets helping bowl the visitors out for 175 in reply to Linthwaite's 201-4. Beau McGuiness was the toast of Mirfield with a dominating bowling performance away at Birkby Rose Hill. The hosts were dismissed for 92 thanks to McGuinness's 4-37 as Mirfield replied with 94-3 off 20 overs.
Barkisland 2XI gave a good account of themselves away at Cumberworth United 1XI. Experienced Barki club men Darren Robinson (37) and Ben Westbrook (41) helped them post a challenging total of 153-9, but it wasn't quite enough as Cumberworth replied with 154-5. Ashley Littlewood focussed his team's chase with a splendid unbeaten 69 as Cumberworth succeeded with a couple of overs left.