Hoylandswaine's Chris Holliday lit up Group Red with an extraordinary triple century as Swaine amassed a substantial total away at Denby. In Group Orange, Barkisland and Shepley are the pathfinders in the table after they both posted impressive victories to maintain their stirring seasons. Upwardly-mobile Broad Oak built on last week's win with another away at nearby Golcar with Moorlands and Armitage Bridge both putting right their wrongs from seven days prior. Kieran Rogers and Dale McMullen unsettled Kirkburton as Elland continued their campaign strongly and a meaty score for Zak Pemberton kept Delph & Dobcross 2XI flying high at the summit of Group Green.
Group Orange
Luke Bridges masterminded the downfall of a Honley team who have now suffered back-to-back defeats following a perfect start to the season. Bridges struck fatal blows on the hosts with an impeccable display with the ball that Honley couldn't answer. He accounted for the top three with opening batter Simon Kelly (32) escaping from Bridge's spell only for so long. With Kelly removed; Barkisland bowlers adopted a pack mentality to rifle through the rest with the remaining wickets shared out between Jamie Sykes (2-14), Jake Finch (2-9) and Matt Weston (2-4) in Honley's scant 84ao total. Bridges suffered a three ball duck in the second innings but victory wasn't in question as Barkisland waltzed to an eight-wicket win; their fourth from four matches. Openers Ben Heritage (27no) and Matt Weston (28) making sure.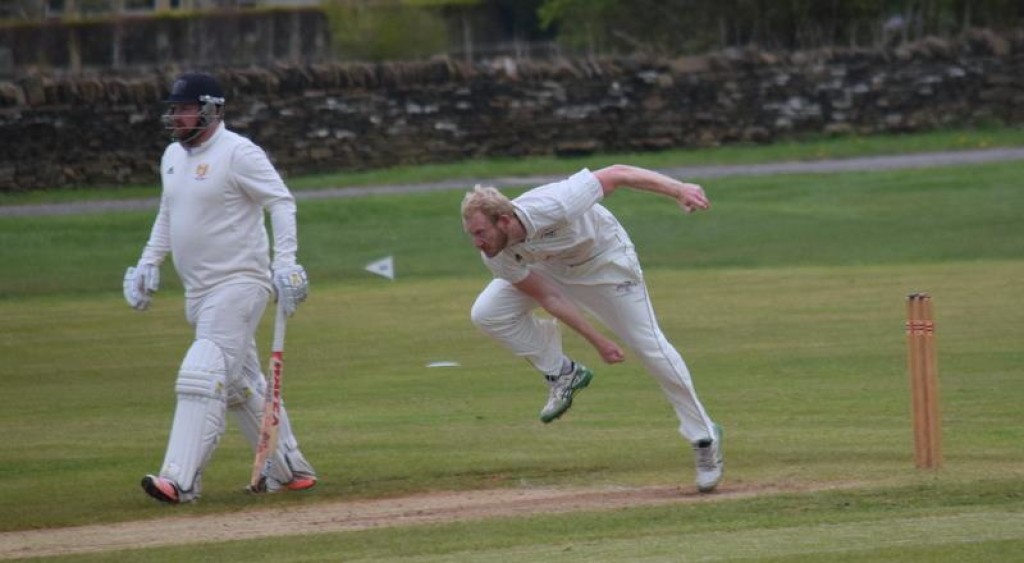 Danny Glover was pushed up to open the bowling in the absence of regular opener Nasir Jamal, taking three wickets to propel Shepley to their win away at Thongsbridge; a ground he scored a century on with the bat in 2019.
Shepley shrugged off a sluggish start away at Thongsbridge to move clear by two points at the top of the group leaving the home side winless at the bottom. Opening bowlers Ben Balmforth (2-33) and David Wagstaff (2-41) had the visitors in an early spot of bother until Luke Patel (36) and skipper Greg Wood (27) redressed the balance. Max Joice (34) added some vital runs but Thongsbridge nagged them all the way to Shepley's 189-9 first innings total. In the absence of Nasir Jamal, Danny Glover (3-20) stepped forward to deliver a blow to Thongsbridge's hopes that they never fully recovered from to neutralise the hosts main threat. Rory France (29) battled gamely but Shepley completed a professional throttling-job with bowlers Tom Chadwick (2-23) and Ollie Davidson (2-20) helping restrict Thongsbridge to 162-9 from their thirty overs.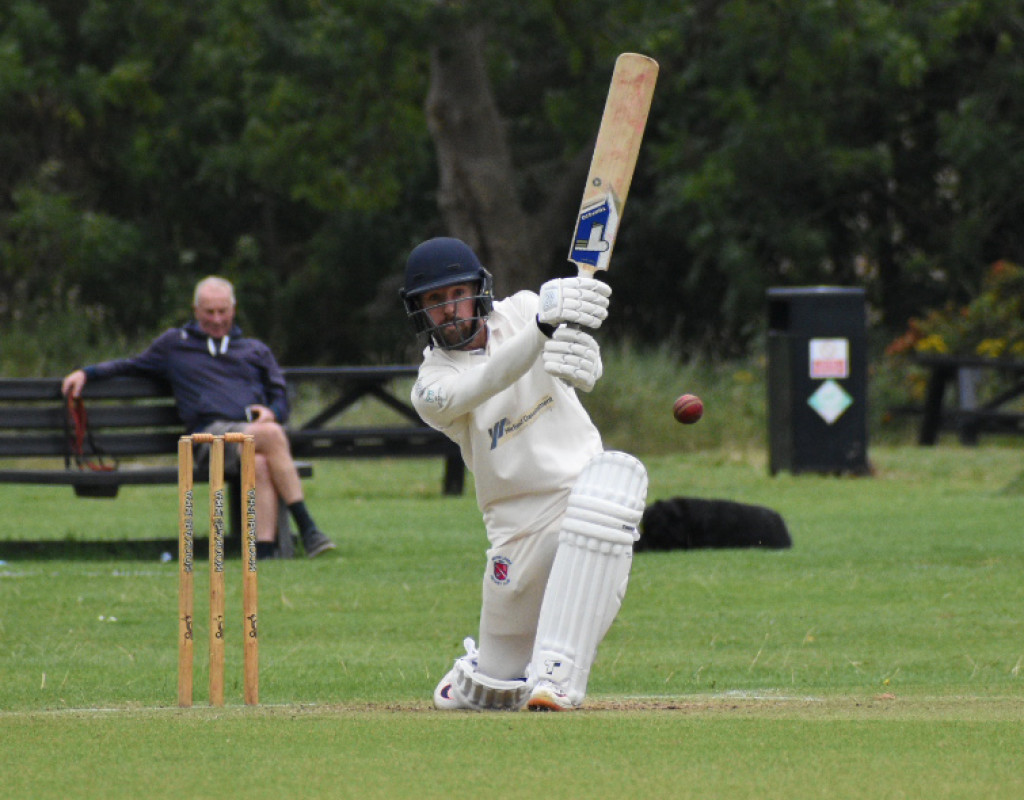 Moorlands' Andrew Wood's 47 was a crucial contribution as they held off visiting Delph in a 24-run win at the Memorial Ground.
A brutal learning experience was reflected on for Delph & Dobcross after they wastefully let slip the initiative away at Moorlands. Andrew Wood (47) squandered a half-century opportunity for the hosts who were put on the back foot and finished with a slightly under-par 141-8 first innings knock with a strong comeback from Delph's youngsters, particularly from 14 year old Isaac Jones (3-25). The visitors were in command at full throttle racing to 72-0 thanks to the opening partnership between captain Alex Peters (43) and Mosun Hussain (26). The introduction of slow bowlers Siraj Sajid (3-21) and Daanyaal Ahmed revolutionised Moorlands with Sajid removing the dangerous Delph openers. Ahmed (4-20) then sensed blood with the left-armer thrusting through the middle order. This left the visitors critically exposed before Darrell Sykes (2-20) took advantage of the ailing visitors to remove the last pair leaving Delph 24 runs adrift on 117ao.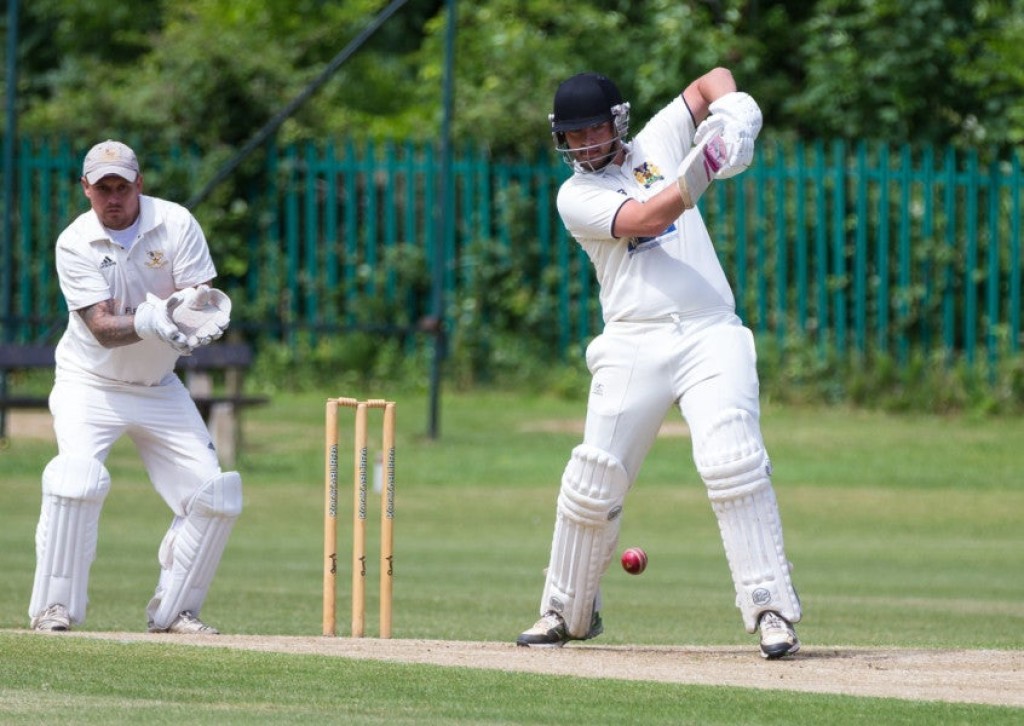 A half-century from Alex Blagborough turned out to be the difference as Armitage Bridge got off the mark at home to Scholes.
Alex Blagborough handed Armitage Bridge their first victory at home to unpredictable Scholes. Former Copley man Blagborough (63) withstood some testing Scholes bowling which accounted for most of his teammates as Bridge wheezed their way to 123-9 first up; Yaasar Imtiaz (3-10) returned the best figures for Scholes. The bowling was bettered by the home side as they admirably defended their modest total. Opening duo Jamie Hopper (2-31) and Jack Hinchliffe (2-16) had the visitors in trouble as Scholes slumped to 69-8 before former skipper Josh Brook dropped an anchor. Jaycub Curtling (3-16) helped finish the job as Scholes were eventually dismissed for 106.
A stunning performance with the ball kept Broad Oak on the rise after they emerged victorious away at improving neighbours Golcar. Harvey Booth (4-11) was the primary antagonist for Jack McNamara's side with Liam Moran (2-9) and Daniel Taylor (2-20) helping run through the rest of Golcar's reply ending their chase on 90ao. Earlier Oak were indebted to Charlie Roebuck (30) who top scored in the visitors 143ao, pestered by Will Hinchliffe (4-14) and Steve Whitwam (3-20).
Group Yellow
A 100% record had to go when Kirkburton travelled to Elland and the Hullen Edge side moved clear at the top with a convincing performance against Premiership-dwelling 'Burton. Kieran Rogers (3-12) claimed his 9th wicket for Elland as the opening bowler went for the jugular. Long-serving Burtoners Javaid Ahmad (47) and Chavez Younes (37) settled the ship for the visitors with a decent stand until Dale McMullan's input. He chipped in with 4-10 to tidy up the tail in the visitors total of 125ao. Elland's Rohan Randhawa's red-hot form continued again as he stood tall in the reply with an unbeaten 79 with the home side retaliating with 126-4 after 23 overs.
Meltham deepend the gloom around Mirfield Parish Cavaliers who suffered their third straight defeat at home to Alexander Clegg's men. Meltham's 235-6 was too much for Parish who replied with 177ao. Individual scores weren't available at the time of writing.
Harvey Jones' half-century proved the difference for Shelley who defeated visiting Clayton West. The wicketkeeper struck 5 fours and 3 sixes in his 55 as Shelley made 167-8 batting first. Clayton West had a half-centurian of their own as Mark Hinchliffe (54) hit the high notes in the visitors reply. Jacob Holling (2-40) and Cameron France (3-30) held firm as Clayton West made a bid for victory that ultimately fell short on 149ao.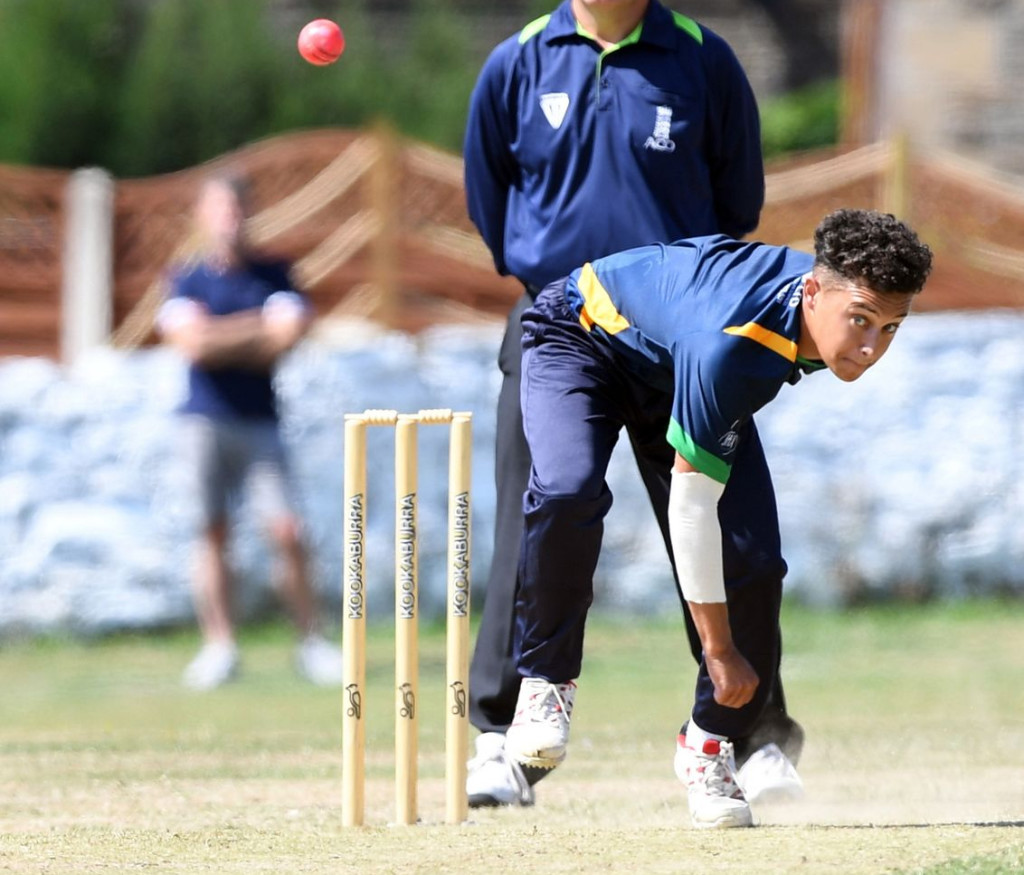 Thurstonland had no answer to right arm medium-pacer Nathan Cyrus who took four wickets in a rampant victory for Slaithwaite.
Nathan Cyrus (4-14) put Thurstonland to the sword in Slaithwaite's handsome win; their third of the season. The seamer struck a four wicket blow as Thurstonland struggled to contend with Cyrus, Dave Berry (2-8) and former skipper Alex Walker (2-15) who all combined to dismiss Thurstonland for 97. Berry (63no) ensured the Hill Top side moved to third place in the group with a solid batting performance in Slaithwaite's 98-3 reply.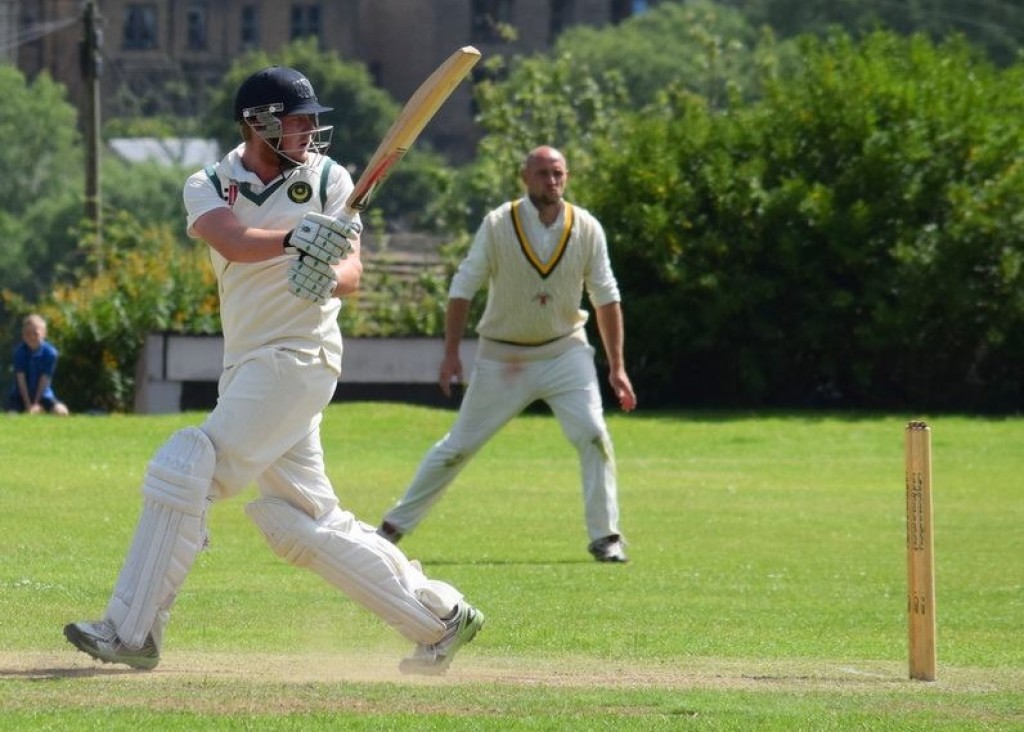 Max Berry's 71 wasn't enough for Marsden who were edged out by Lascelles Hall in a fascinating tussle.
Lascelles Hall won an absorbing contest at home to Marsden. The enigma-like Cuckoo's have some inconsistencies to iron out after they failed to defend their 146-9 first innings score. Max Berry (71) top scored which was countered with a decent spell by Hall's Hardeep Singh (3-35). Wickets tumbled in the second innings as Lascelles Hall weathered some probing questions from visiting bowlers Finlay Addy-Child (2-25), Musa Ahmed (2-19) and Andrew Mould (2-19). However the hosts were thankful for some strong performances at the top of the order by Will Simpson (28) and Singh (37) which laid sufficient foundation to secure victory. A cool head from vastly experienced wicketkeeper Shaun Woodhams (11no) marshalled the tail as Lascelles Hall's 148-8 was enough with 7 balls left.
Group Red
Hoylandswaine ruthlessly exposed any weaknesses in Denby's bowling attack with a virtuoso batting display by Chris Holliday (main image) who struck a triple century in Swaine's overwhelming victory to move them clear at the top. The numbers went into meltdown as Holliday (316no) sent a total of 55 shots across the boundaries (a total of twelve balls went missing). You couldn't help feeling for the Denby bowlers who suffered enormously from the bat of the former Yorkshire Academy player who hit 21 fours and 34 sixes in his remarkable 113 ball innings. Captain Sarjinder Pal Singh's 62 was almost lost in the noise as Hoylandswaine made 456-3 from thirty painful overs. Denby's reply of course was rendered academic although James Gumpert (34) tried manfully to restore some pride. Hoylandswaine, whose one-team submission and exclusion from playing on their home ground prevented them from competing in Group Orange, wrapped up the eye-watering win through bowlers Nathan Rimmington (4-9), Gurman Randhawa (2-16) and Christian Jackson (2-12).
Kamran Saleem sprung a shock surprise on high-flying Skelmanthorpe as they were downed by the big-hitting batsman. Saleem (77) returned to Clarence in style after missing a few matches, hitting 14 fours and a six in his match-winning innings. Skelmanthorpe's Luke Webster (6-41) swapped his wicket keeping gloves for the cherry and may stick to bowling in future after grabbing a six-wicket haul which stopped the visitors running out of sight. Emley's 178ao should have been a comfortable enough chase for Shat given their batting prowess this season but they failed to ignite on this occasion. Had Paul Cummins (45) not been denied a half-century the outcome may have been different, however Emley bowler Mohammed Nabeel (4-43) helped knock the hosts off balance. The win was impressively sealed when bowling trio Janaid Tanwir (2-32), Saleem (2-29) and Jon Lee (2-14) took the remaining Skelmanthorpe wickets as they slumped to defeat on 154ao.
Ash Smith placed Holmfirth behind the eight ball as they struggled to chase down Almondbury Wesleyans' domineering total on their travels.
Four Almondbury Wesleyans batsmen made Holmfirth toil in an emphatic victory. Bryn Jenkins (41), Thomas Binns (52), Nathan Kenworthy (48) and skipper Will Binns (47) starred in Wesleyans imposing 227-8 total, with a five-fer for Holmfirth's Tony Wilkinson during an action-packed first innings. The visitors were outclassed when it was their turn to bat after opening bowlers Jack Atkinson (2-40) and Ash Smith (2-11) immediately put the pressure on. Matthew Henshaw (2-15) then turned the screw terminating the Holmfirth innings on 114ao.
Contributions throughout the Lepton Highlanders innings ended second-bottom Almondbury's hopes of a first victory in 2020. Six batsmen made it into double figures with Muhammad Shah (29) and Jon Wareing (29) top of the shop in Lepton's 183-8 score. Abdullah Khan (4-13) controlled the hosts with the ball who were disappointingly bowled out for just 78 off 23 overs.
Nineteen wickets tumbled at Round Hill as Rastrick were undone at home to Denby Dale. Six wickets were shared between Rastrick's Sunil Singh (3-20) and Samraj Sangha (3-21) as visitors Denby Dale failed to sparkle with the bat. However their lowly 122-9 first innings score was more than enough after the hosts experienced a catastrophe with the bat after an inspired five star performance from Abdullah Amin (5-8) had Rastrick stunned on 55-9. Tom Stead (32) made a brave attempt to nudge his team over the line but his was the final wicket to fall as the home side were all out for 89.
Group Green
Zak Pemberton flabbergasted Honley 2XI with an exhilarating show of batting to keep Delph & Dobcross 2XI on top of Group Green. Daniel Jones' intoxicating blend of exciting youth and strong experience has been the perfect tonic and Pemberton stepped up to dizzying new heights with a huge century to topple their opponents. The 18-year old - his best performance with the bat was previously 67 - slammed 20 fours and 9 sixes in a fabulous unbeaten 169. He enjoyed a 117-run second wicket partnership with Lee Needham as rampant Delph piled on the runs setting 278-9 from their innings. Honley, with a wealth of experience in Martin Green, Simon England and Rob Moore, found it hard to match the high-octane pace that Pemberton and co set. Skipper England (37) found runs, but had little to keep company with him as Delph let scoreboard pressure take its toll. Zak and father Gary Pemberton shared five wickets between them as Honley withered to 154ao in reply.
Upperthong kept in touch with Delph, five points adrift in second place after they brushed aside strugglers Kirkheaton. Will Kilner (45) set the tone for the hosts in 'Thong's 147-7 score. Jack Brook (5-13) took five in the second innings as the visitors were rolled over for 91. Elsewhere, Hall Bower eased home away at Linthwaite thanks to Tom Baxter's 48 in Bower's 133-4 reply. Earlier Linthwaite had put up a battling 129-6 target.
In the remaining matches, Barkisland 2XI earned a second win of the season at home to Birkby Rose Hill. Former 1XI skipper Darren Robinson (4-14) had too much with the ball as Birkby were bowled out for 95. Matthew Raven (47) bookended the reply in a seven wicket cruise with the hosts making 98-3. Max Field (4-33) and Nathan Moorhouse (3-25) sent Mirfield packing after they broke down chasing Cumberworth's 177-9 total. Mirfield captain Adam Goldthorpe (65) valiantly tried to keep his side's innings together albeit in vain as Mirfield countered with 141ao.