"Play With A Smile" was an expression that seemed permanently associated with the likeable former Huddersfield League cricketer Ritchie Howarth during a playing career which spanned nearly forty years. However a destructive battle with severe mental health has recently left Ritchie feeling helpless, struggling at his lowest ebb.
This week, step daughter Maddy Moore (24), along with Ritchie's son Bailey (17) have launched fundraising campaign #raiseforRitchie after a recent shutdown by the NHS which has led to him being discharged from their care. Maddy, who had moved out of the family home but frequently checks up on both 52-year old Ritchie and son Bailey, explained the frustration since his discharge from hospital: "I think we had all given up a bit, especially when the NHS said there is nothing more they can do. However I have been staying with Ritchie for the past three weeks as his mum has been self-isolating herself and wasn't able to go round to check on him and Bailey. Living there for the last three weeks made me realise that we cannot just give up on someone that is still so young and that there must be something else we can do".
Asked why they started a crowd-funding campaign, Maddy went on to explain. "We originally wanted to raise £1500 to fund a few consultations with private consultants to get a second opinion. However given that we raised that in under an hour we thought that we can go so much further than that and potentially be able to raise enough for him to be able to see a psychiatrist and then have the treatment he needs privately. We are just waiting for the GP letter to give to the consultant before we book the first appointment and then hopefully we will know more after that. We think £10,000 is enough for Ritchie to have the amount of support he needs from a private consultant and then refer back to the NHS for private treatment however if they think private stays will be more beneficial then we want to try and raise as much as possible to fund this".
Since #RaiseforRitchie was initiated earlier this week, the response has been phenomenal. A mere skim-read through the donations sees familiar cricketing names across the length and breadth of the league all contributing. The fund was started on Monday August 25th but within 24 hours the quickly re-evaluated £10,000 target had been exceeded and continues to grow. An astonished Maddy continued: "The campaign has been running for only 16 hours and we are just overwhelmed with the support we have received so far. It just shows how many people love Ritchie and want to see him get back on his feet".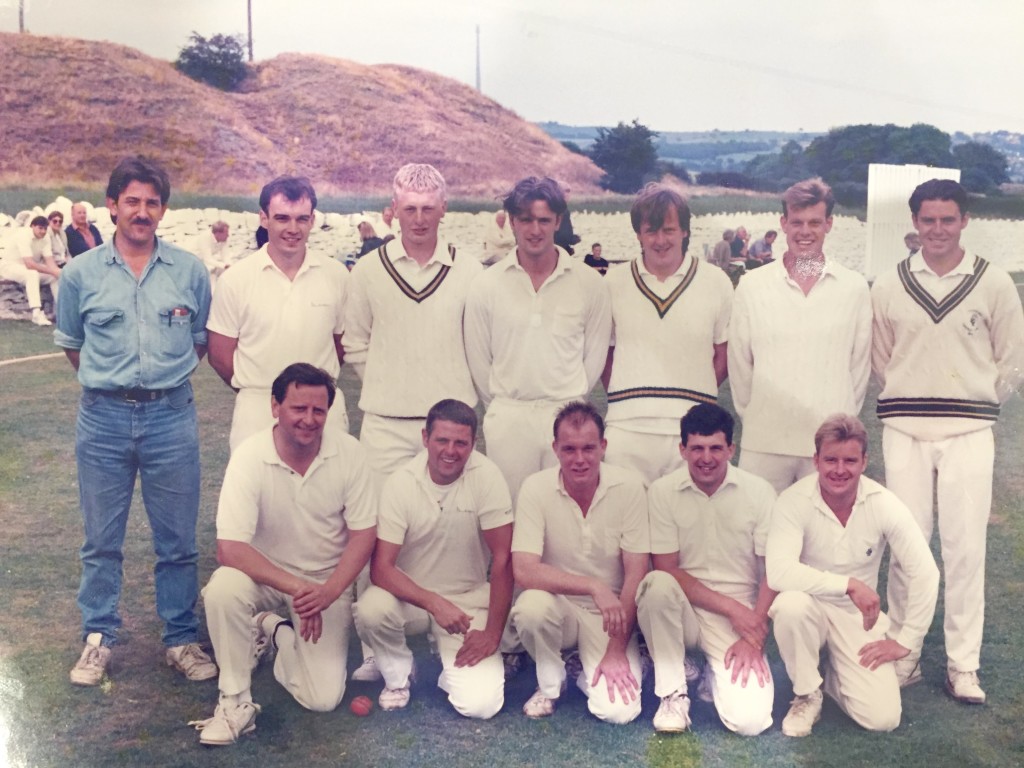 Ritchie (back, right) in his Holmbridge playing days during the 1996 season.
The high-performing medium-pace bowler's successful cricketing career began in the late 80's at his first club Holmbridge - then a Huddersfield Central League club and now thriving in our league - where he also played football. He was part of their Allsop Cup winning side of 1994 before he made his next step up at Thongsbridge in 1997. In his first season he helped them reach a Sykes Cup final where they lost to Meltham, but this was just a hint of the success Ritchie would achieve at his next and final club; Honley. He became a huge part of Robert Moore's team that thrived on success for over a decade during the early 2000's, winning just about everything there was to be won as a club cricketer. Six Byrom Shields were won between 2004 and 2011 along with back to back Sykes Cup wins in 2005 and 2006. He also helped Honley add the Black Sheep Yorkshire Champions Trophy in 2008 in addition to an Examiner 8's trophy which seemingly started the ball rolling in 2003. The right arm seam bowler took over 500 wickets respectively over 13 seasons with Honley, with a personal high point of taking 77 league and cup wickets in 2011. His competitive nature and engaging personality had not only helped win numerous honours on the field for his team, but he continued to win the respect of those that played with and against him.
We asked Maddie what life was like for Ritchie in these later years, since his retirement from the game in 2015: "Ritchie is probably at the lowest he has ever been right now. He has a phobia of going outside leading to major anxiety and sadly has suicidal thoughts on a constant basis. The NHS have said all they can do is medicate him, however that is not working and if anything it is making him worse. Suicidal thoughts, major anxiety, depression, uncontrollable shakes and unable to complete daily living activities most people take for granted are just some of the obstacles he has struggled to overcome".
What ideas had Bailey and Maddy had in mind in addition to their crowdfunded campaign? "We want to do a raffle (so if anyone has any prizes to donate, contact us and we'll make sure Maddy and Bailey are aware) and we have other fundraising ideas. Unfortunately, we are quite restricted with the Covid restrictions in place" the 25-year old added.
#RaiseforRitchie has smashed the revised £10,000 target and carries on going. You can donate towards the Howarth family's cause by clicking the link below. All at the Huddersfield Cricket League wish Ritchie the very best in his care and recovery.