It was a Bank Holiday bonanza in the Premiership as Kirkburton and Delph & Dobcross built on their progress from Saturday with eye-catching performances to boost their lowly league positions. Moorlands kept hold of top spot with a nine-wicket rout of Shelley with Hoylandswane only two points behind after dispatching Almondbury Wesleyans.
Drakes Premiership
Left-handed overseas Roscoe Thattil (featured image) made his mark on the Premiership when he delivered a standout performance to help his new side Kirkburton make it a memorable bank holiday weekend with a crushing victory over Thongsbridge. Sri Lankan, Thattil (145) hauled the visitors over the coals with a brilliant batting display off 91 balls scoring 17 fours and 7 sixes to help set up a huge 271-7 in 35 reduced overs. Alex Scholefield (42) helped Kirkburton start with intent but it was during the fourth wicket partnership where the professional took the game to Thongsbridge, with captain Toby Booth (28) seemingly taking a back seat. Ben Ravenhill's side have now lost three matches on the run having made a faultless start to the season and will be keen to get back to winning ways soon. Their reply stuttered under the weight of the large target after first innings interruptions reduced the second innings to 25 overs and a still gargantuan 217 run target.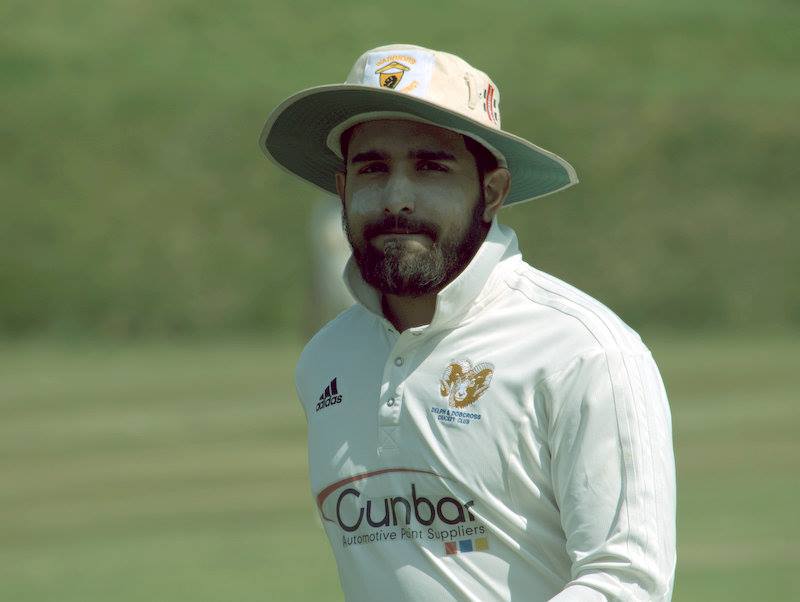 Delph batsman, Mosun Hussain emphatically put a barren run behind him with a classy 82 before taking two reflex slip catches in Delph & Dobcross' victory away at Shepley.
Delph & Dobcross turned their season around with their third league win in four matches coming at the expense of Shepley at Marsh Lane in a match reduced to 40 overs. Incoming Delph skipper Louis Aspeling has seen pleasing shoots of progress emerging over the weekend and they followed up Saturday's impressive win away at Honley with another strong performance on the road. Mosun Hussain dropped down to four in an attempt to rediscover his potent form and was handsomely rewarded with a fine individual display. After the sterling work of young all-rounder Xander Selby (10) opening the batting in his place, Hussain (82), at first delicately played himself in before mercilessly dismantling Shepley's second and third change bowlers giving the visitors a healthy first innings total of 181-9 to defend. The target was then reduced to 171 off 36 overs following a 12 minute first innings rain shower. Pace bowlers Umer Yaqoob (3-33) and Muhammad Shakir (4-33) quickly found their rhythm removing Shepley's main threats - enhanced by some fine catches in the field - with only Tom Chadwick (34) managing to apply himself. With the hosts under pressure, left-arm spinner Selby (2-15) was brought on and successfully suffocated the lower order and Shepley's reply tailed off at 118ao. The win lifts Delph up to seventh place from second bottom at the start of the weekend.
Just five runs separated Armitage Bridge and Honley with the latter holding out for victory in a closely fought match. Honley, batting first in a match whittled down to 28 overs per side, posted a 160-5 total with opening batsman Simon Kelly (52) providing the bedrock of the innings. Racked with absentees - no less than five frontline players were missing - Honley were encouraged by brothers Owen and Lewis Kenworthy combining effortlessly to push the score along, with Bridge spinner Dan Moorhouse (3-48) the pick of the bowlers. The hosts will probably reflect on a damaging spell by Honley bowlers Jack Hebden (2-33) and Charlie Jakeman (1-26) which snagged their progress early at 28-3. Jaycob Curtling (54) rallied and had he stayed in, perhaps the result may have been different. He was bowled by Mel Benito (2-55) shortly after reaching his half-century and then tight bowling in the latter stages halted Armitage Bridge on 155-6 at the finish.
Iftikhar Naseer followed up his searing ton for Hoylandswaine 2XI on Saturday with an even faster hundred for the 1XI at home to Almondbury Wesleyans. With three County players on their roster, the starting eleven beholds an ever-changing appearance due to unavailabilities which made room for Naseer to shine. Batting first, the visitors were overwhelmed by Waqas Maqsood (4-48) and Adnan Ghani's (2-27) blistering pace which left Gurman Randhawa (3-30) the simple task of mopping up. All-rounder Matthew Henshaw (46) continued his enduring start to the season but Wesleyans had very little else in reserve as they were bowled out for 141. This allowed opener Naseer (100) to let fly, his century coming in only 36 balls with 5 fours and 12 sixes. Victory was assured for the Bryom Shield holders after 14 overs on 145-1.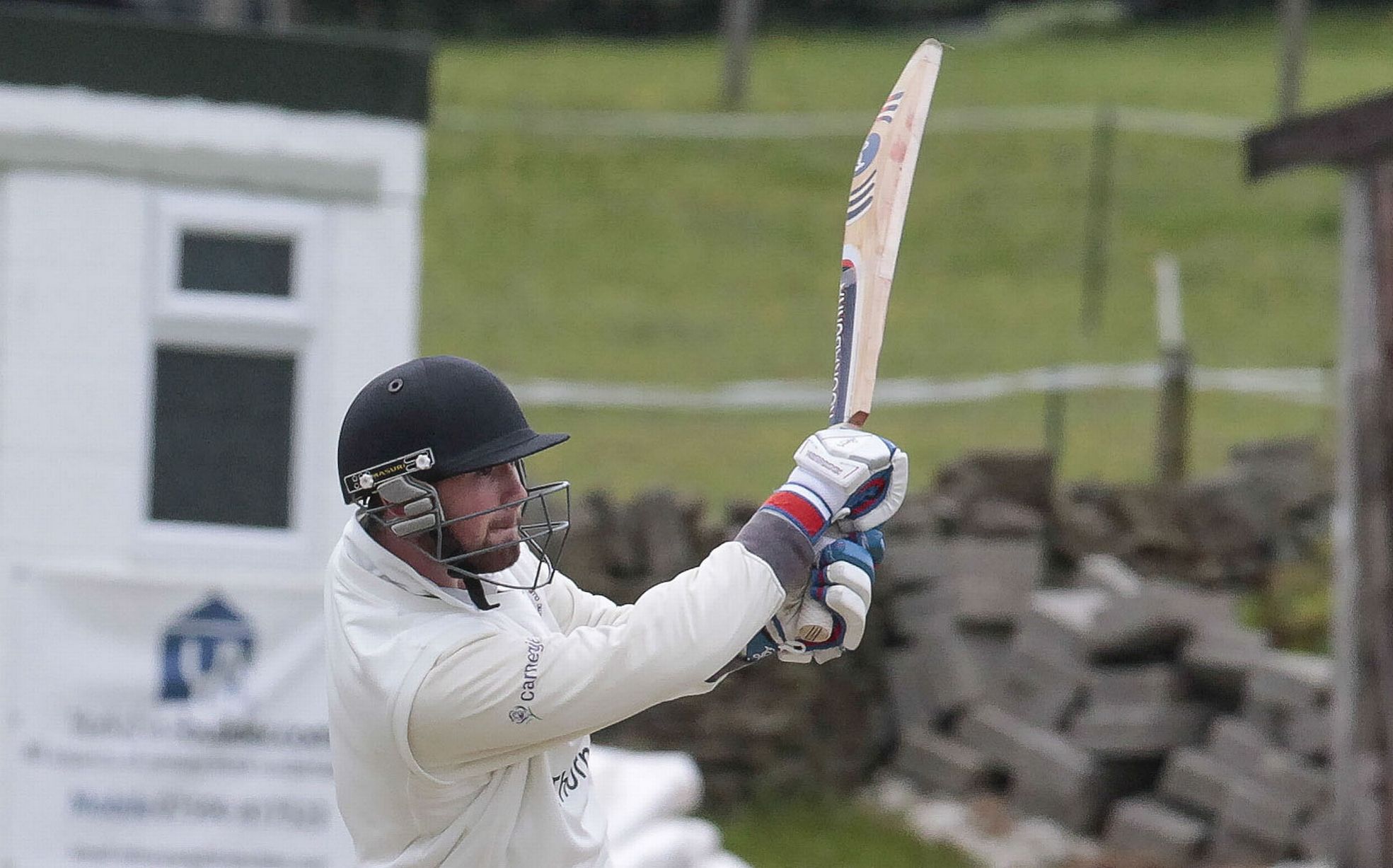 Bradley Birkhead (Scholes) made the most of his teammate's good start against Golcar by blasting a quick 77 from 54 balls in his side's 27-run win.
It was a weekend to forget for Golcar who came off second best in a high scoring contest at Chapelgate. Scholes had four batsmen racking up the runs with Gharib Nawaz (69) and kiwi Joe Carter (77) hitting their highest scores so far this season in the host's first innings score of 297-4. Tom Brook (48) narrowly missed out on a half century but Bradley Birkhead (77no) clattered 7 fours and 5 sixes as Golcar's bowlers tired in another unforgiving match. However they were well in the hunt as the second innings unfolded with openers Abdul Wahid (42) and former Scholes player Steve Whitwam (33) enjoying a 79-run opening partnership. Ibrar Latif, who hammered a double hundred against Scholes in the Heavy Woollen Cup back in 2014, had the home spectators concerned when Golcar went at them hard. Latif (60) fell at a crucial time to a Tom Brook (3-67) catch from his own bowling which stunned the visitors at 225-5. A batting collapse was ignited and the final five wickets fell quickly with Golcar finishing agonisingly short of a second batting point on 260ao.
Moorlands welcomed back captain Eddie Walmsley who led his side to a one-sided 9-wicket conquest away at rock-bottom Shelley, themselves yet to win their first match. Darrell Sykes (3-41) and James Stansfield (3-25) kept Shelley in a vice-like grip with opening batsman Hasnat Yousaf (28) top scoring for the hosts. Siraj Sajid (2-22) also chipped in to prevent Shelley getting loose and they were bowled out for 135 with six overs remaining. Moorlands weren't taking any chances on an unpredictable surface, especially losing opener early in the reply. Michael McEwan (41no) and Sajid (63no) diligently saw the job home with Moorlands finishing on 119-1 in 25 overs, surpassing Shelley's revised total of 118.
Barkisland and Broad Oak were left frustrated by the weather after a prolonged, heavy deluge left the pitch unfit for play. The match was abandoned at 2:30pm.