In the 99th Sykes Cup Final, Delph & Dobcross lifted the trophy for their third time after brutally sweeping aside Shepley; their opponents in all three final victories. It was a thoroughly businesslike performance from Delph who were outstanding in the field.
After winning the toss, Shepley captain Greg Wood elected to bat first as often sides do in finals but they failed to get to any kind of level to put pressure on their opponents despite getting off to a fairly fluid start. Opener Dan Wood, a fluent-scoring batsman took the game to the Lancashire side in the opening ten overs, routinely guiding anything down leg-side for four and driving the occasional slot delivery through mid-wicket. Delph captain Andrew Gleave stuck to his guns and was rewarded when Wasim Qasim made the breakthrough with Wood (28) adjudged caught behind in the 11th over. Delph, encouraged by the removal of a player who's caused damage in previous meetings immediately began to take control of the match and more wickets followed in quick succession.
Tom Denton (2); scorer of a century against Delph in the 2012 final, played a loose shot which landed nicely for Waqas Maqsood to pouch at mid-off and they were further derailed when the prized wicket of captain Greg Wood - Shepley's match-winner in the semi-final - was taken without scoring by a smart slip catch by Graeme Simpson to leave Shepley stunned on 44-3. Shahban Raheem (0) became Qasim's fourth victim falling to an excellent overhead catch by Luke Hargreaves at gully. Qasim (4-23) and Maqsood (0-26) then made way for spinners Xander Selby and Chris Tipper who kept a tight hold of the match after their earlier good work. Shepley attempted to patiently rebuild with opener John Anderson and vice-captain Danny Glover but further harm to their cause came when 15-year old Xander Selby worked a delivery through the gate to bowl Glover (9). Anderson departed soon after for 30 runs off 95 balls, cleaned up by Tipper from the scoreboard end. Archie Greaves (14) fell an over later hitting a straight one at Gleave to catch at mid-wicket off the bowling of Tipper.
At 93-7 the damage was beyond repair by this point and the inevitable came quickly. Ollie Davidson (2) gallantly succumbed to a fine high catch at long on off the bowling of Selby (2-26) by Umer Yaqoob, making up ground in the deep . Davidson was then shortly followed by Abbas Ahmed (1), bowled by Tipper (3-15). The finest catch was reserved until last with quick bowler Yaqoob (1-13) reintroduced and he found a thick edge off the bat of last man Nasir Jamal (8). Skipper Gleave was equal to it taking a superb one-handed catch in the slips to bring the curtain down on the Shepley innings. In a grim sense of déjà vu, Shepley finished one run short of their first innings total in the 2016 final on 107ao.
Nasir Jamal, Shepley's main strike bowler may have been nursing a sore elbow but he put it behind him to send Delph straight onto the back foot in the reply. The prolific opener Mosun Hussain looked out of sorts in the opening over as he aggressively tried to charge down Jamal and escaped with the ball landing safely in the opening over. Jamal had fellow opener Nathan Jones (7) trapped LBW and won another LBW appeal against Simpson (0) to lift the Shepley spirits. Chris Tipper helped take the score from 14-2 to 51-3 before Tipper (8) fatally left alone a Jamal delivery which swung in to tickle his off-stump. More worry for Delph manifested itself as Gleave played a slack stroke which was caught by Archie Greaves and at 54-4 the match at this point was finely balanced and a further couple of wickets would have handed control to Shepley.
With the lethal Jamal (3-18) having bowled his ten over allocation right through, Hussain showed the focus that has made him one of the most consistent batting performers in the last couple of seasons. He was joined by Waqas Maqsood - who flew in from Pakistan two days earlier to be available for this final and the pair batted right through to put the result beyond doubt. Hussain (45no) was particularly potent hitting 7 fours and 1 six, pulled over square leg in his 70 balls with Maqsood (30no) striking 4 fours and one big six over the looming Honley pavilion in his run-a-ball contribution. The winning runs were scored just after drinks in the 26th over to take Delph over the line in crushing fashion.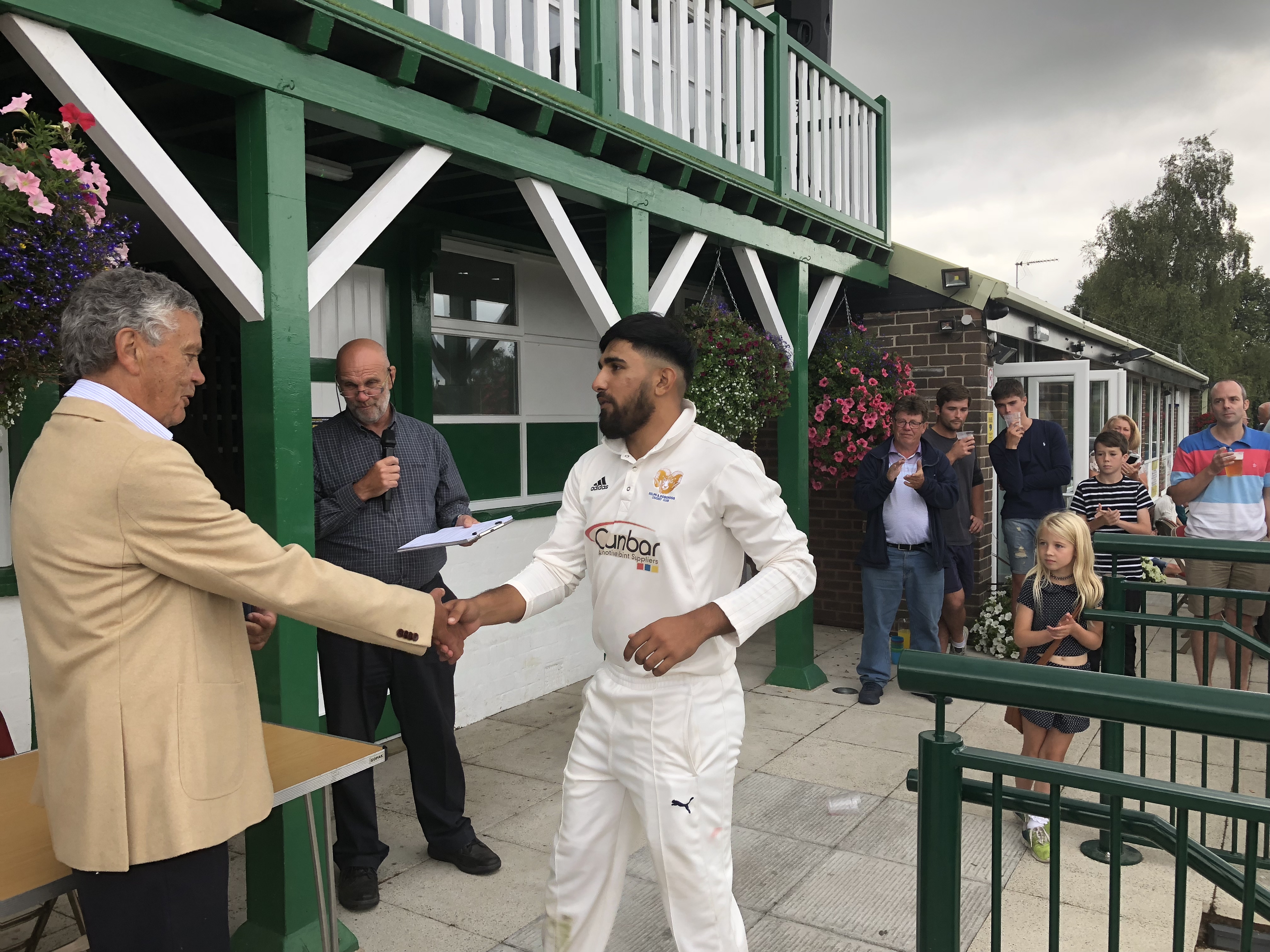 The Executive decided for holding his teams innings together at a vital time and finishing the game not out that Mosun Hussain (pictured above) would take the man of the match award, sponsored by North Light Physio.