On a sweltering afternoon, Slaithwaite - hosting the T20 Finals day for the first time - eased home in front of their own supporters to lift the T20 Shield. In the T20 Trophy Final, Hoylandswaine put in a clinical bowling performance to emphatically see off a challenge by their Premiership rivals Honley by six wickets.
T20 Shield Final Review
Elland, who had earlier lost a close match away at Slaithwaite in the league, endured a sense of déjà vu as they again came second best. Slaithwaite captain Alex Walker won the toss and confidently asked Elland to bat first. The visitors got themselves off to a fine start with opening batters Ciaran O'Malley and Liam Fletcher scoring quickly putting on 47 runs for the first wicket. It took a couple of bowling changes by Walker, introducing himself and eventual man of the match Josh Chojnowski and then the picture began to change. A disastrous miscommunication by the batsmen saw O'Malley (19) struggling to get back to safety being run out by a good throw. The next over and the free-scoring Fletcher (28) was excellently bowled by Chojnowski (28) to bring in two new batsmen. Former Slaithwaite player Greg Alexander (6) was the next to fall as he found a slight edge back to keeper Lewis Bradley before Alec Hodgson (18) capitulated to a stunning catch in the deep by Harrison Quarmby. Elland rallied though and enjoyed a 53 run partnership between Jacob Bower and wicketkeeper Ben Speak. On reflection, it could perhaps be debated that runs were missed and had singles been turned into twos more often it could have had a vital effect. Speak (18) and Bower (53no) took things to the final over where Chojnowski (3-28) struck removing Speak to a good catch by Walker then new batsman Spencer (5) was clean bowled on the last ball of the match.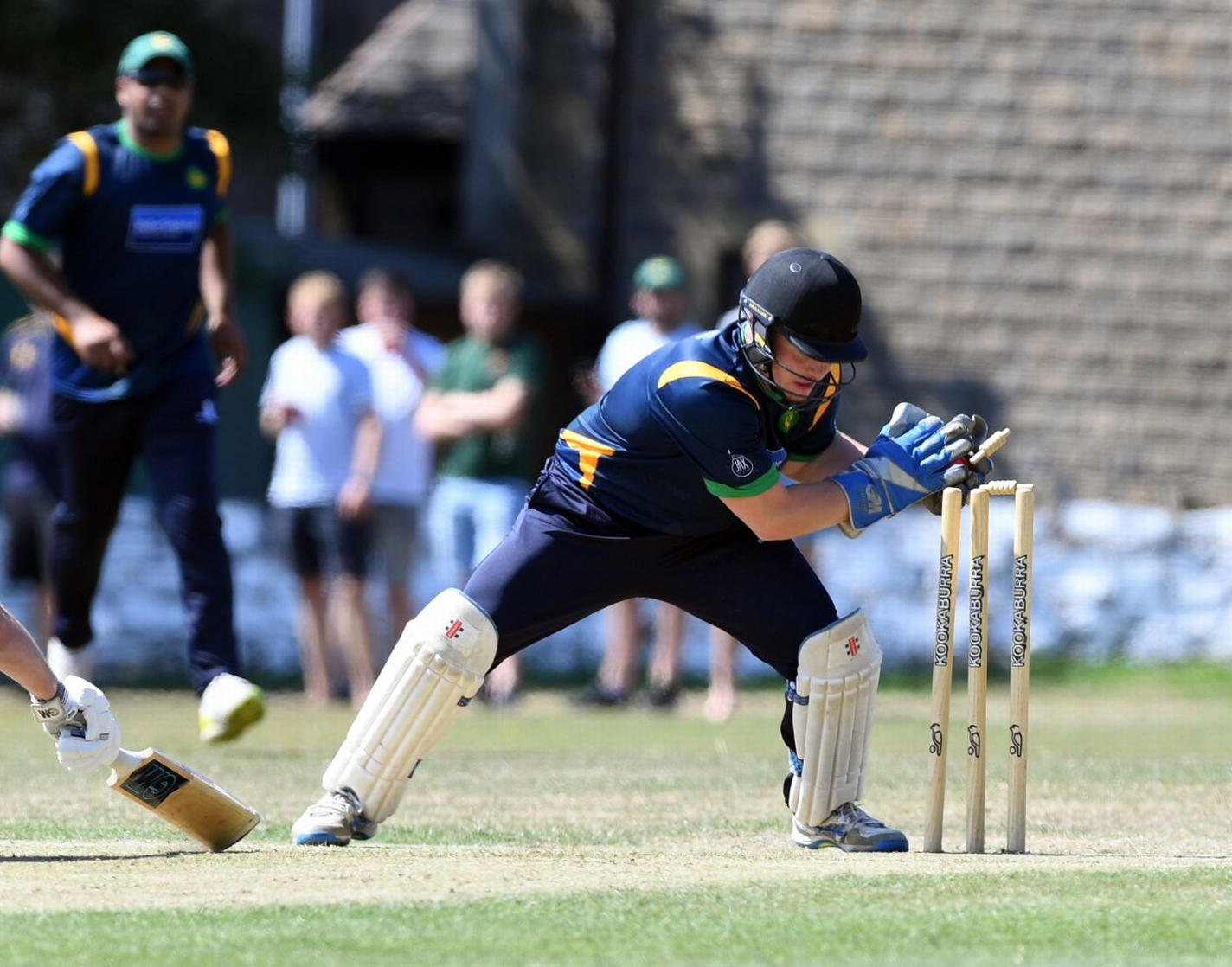 Slaithwaite had to withstand an early blow in the third over of the reply losing two vital wickets to Elland's Alec Hodgson (2-38). Dangerous opener Hasnat Yousaf (10) - who scored a half-century in the semi-final - was adjudged caught behind by Speak and then overseas Jackson Mace (0) was cleaned up by the bowler before he could make an impact. Slaithwaite regrouped quickly with Wajid Hussain striking 16 runs in the next over off skipper Alistair Finn. He and Harrison Quarmby ticked along before O'Malley took a superb catch off Jacob Bower's bowling to remove Hussain (34). Quarmby (45no) then helped to guide Slaithwaite home with a measured innings, hitting 3 fours and 2 sixes from his run-a-ball innings. Despite losing Chojnowski (15) to a catch from Bower in the 12th over, wicketkeeper Lewis Bradley (36no, pictured above) stepped in to thrill the supporters with a stunning 16-ball display containing 2 fours and 3 lofty sixes including the winning runs.
Harrison Quarmby, for his calm, measured innings of 45no which held his sides innings together won the man of the match award chosen by the executive.
T20 Trophy Final Review
Honley captain Timmy Taylor took his side to the final looking for their first 1XI silverware since 2011 fresh from a well fought win against the same opposition in the league a week earlier. After winning the toss, Taylor elected to bat first but their plans for their high quality openers Simon Kelly and Will Fraine to pile on a big target were scuppered within the first three overs were scuppered virtually within the first three overs after Hoylandswaine opening bowler Adnan Ghani managed to extract a grave error from Fraine (7) who was caught by skipper Singh. The Nottinghamshire right handed batsman, enjoying his first full County contract never looked comfortable with Ghani and his opening partner Arshad extracting some useful bounce from the wicket with three mis-timed shots all landing in safe areas before Ghani eventually struck. The puissant Simon Kelly at first looked in ominous mood slamming two fours before ex-Durham all-rounder Usman Arshad (2-21) removed him with a superb piece of bowling, parting his stumps for 10. It would be a fair observation to suggest going hard early didn't pay off for incoming captain Taylor who was forced into a more conservative mode to rebuild the innings from 22-2. Hoylandswaine have many options with the ball and one that didn't quite pay off was using Christian Jackson who Taylor took an immediate shine to, hammering two large sixes over the outbuildings off his one over. The introduction of Shakir Muhammad swung things largely in the way of Hoylandswaine after his tight, economical bowling put the squeeze on Honley. Taylor (28) gave SP Singh his second catch of the match off the bowling of Muhammad who only conceded 12 runs off his allotted four overs.
Once the league leaders Hoylandswaine had their foot on the throat they never really let Honley out of their grasp. Brett Randell (1) was the next to fall with the likeable overseas castled by the league's leading wicket-taker Gurman Randhawa and so this led to former Hoylandswaine captain Ryan Robinson needing to deploy a steely rearguard action to try and prevent a disastrous collapse. With Matthew Sykes, Robinson put on a steady 46 runs although it was at a far more laborious rate than they'd have preferred with their opponents switching bowlers frequently. Late wickets then fell as Honley attempted to push on in vain with Sykes (23) being taken by a good catch in the deep by Jackson, closely followed by Robinson (28) whose attempted drive was easily caught and bowled by Adnan Ghani. Jack Wilson (4) and Sam Denton (5) were both dismissed without troubling the bowlers and Honley were made to settle for a low first innings score of 117-8.
Defending such a modest score seems a near impossible task against a team with Hoylandswaine's batting capabilities and the uphill battle got even steeper as prolific opening batsman Chris Holliday wasted scarcely any time going straight after opening bowler Charlie Jakeman who conceded 20 runs in the opening, and his only, over. Honley had a brief moment of cheer when Sam Denton took out Gharib Nawaz (7) on his first delivery who was caught by Randell in the second over. It was about as good as it got for Honley as Holliday (41) clattered 4 fours and 3 sixes in his rapid 25 ball innings. Captain Taylor introduced himself and Holliday was out attempting an audacious scoop, bowled. Arshad (5) followed in quick succession who was trapped LBW by Taylor but Hoylandswaine's Pakistan overseas player Saeed Anwar had his eyes firmly on the finish line as he scored quickly and clinically. Anwar (30) with 3 fours and 2 sixes in 23 balls took Hoylandswaine to the cusp of victory before he handed over to Singh (21no) and Max Joice (9no) to comfortably see the job home with 37 balls spare.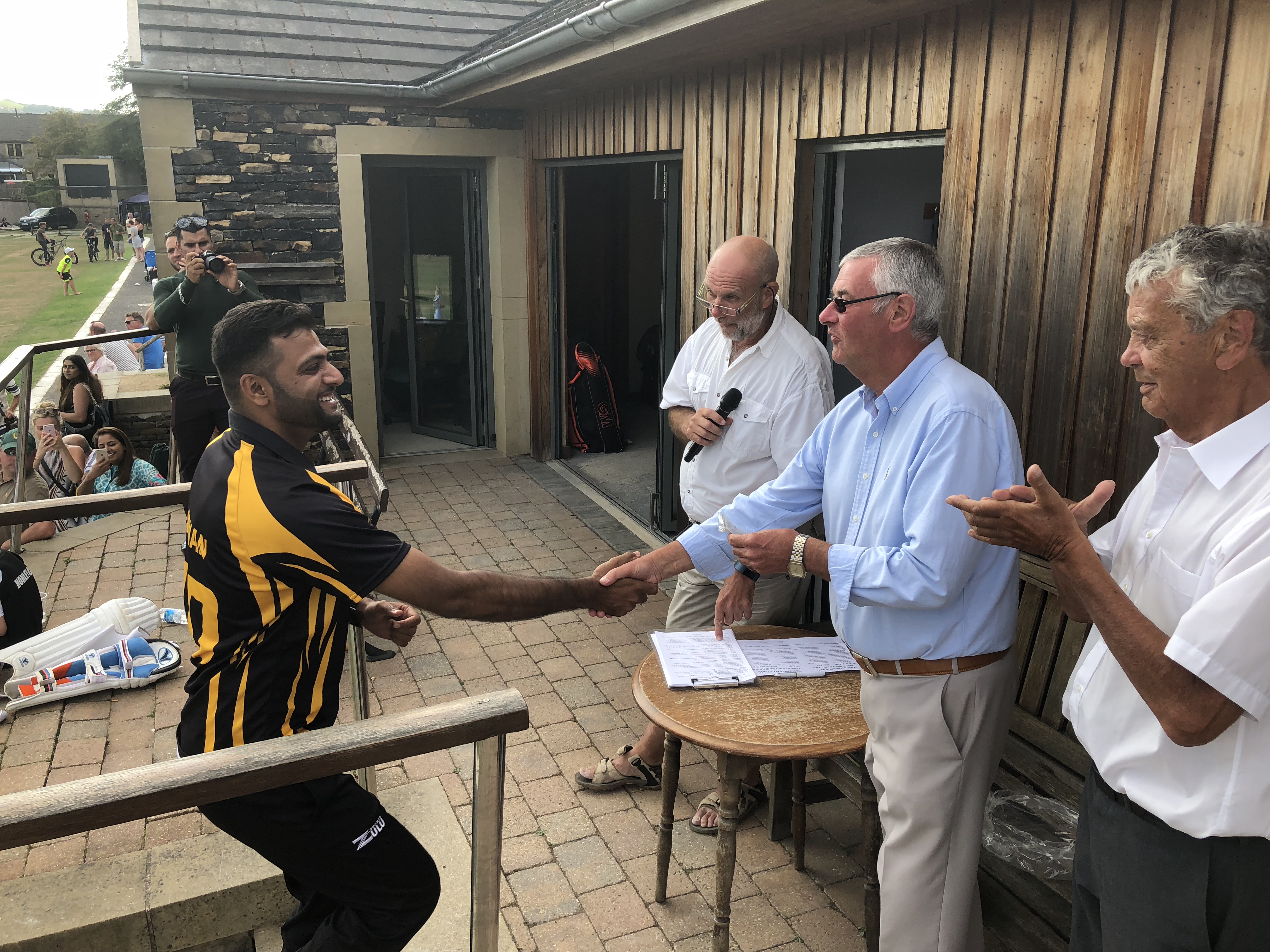 For his contribution early in the match by impressingly removing opening batsman Will Fraine and his former teammate Ryan Robinson, Hoylandswaine's Adnan Ghani (pictured above) was given the man of the match award with 2 wickets for 11 runs off his 4 overs.