A wet week ended in a frustrating precipitation permeated matchday although Thongsbridge still found time to drown Hoylandswaine spirits with a stunning bowling performance from medium pacer Tom Raven-Hill. Holmfirth edged a 22-over thrash at Slaithwaite in the only Championship match to escape the elements and in the Conference, Mirfield suffered their first defeat of the season against Upperthong.
Drakes Premiership
The question on most people's lips this season is how can Hoylandswaine be stopped? Well, ask Thongsbridge's Tom Raven-Hill who skilfully found a chink in their armour with a scintillating six-wicket haul to rock the reigning champions. Hoylandswaine added to their County player roster by securing Leicestershire four-day specialist Harry Dearden in the run up to the match, although his debut was overshadowed by a rampant away performance by Ben Raven-Hill's tightly-knit side. Opening bowlers Zafar Iqbal & Ben Balmforth played their part in softening Swaine up by taking a wicket each, but it was first change bowler Tom Raven-Hill (6-78) who proved the match-winner. Swaine had looked to target the medium pacer but that merely served to fall into Thongsbridge's tactical plan and wickets tumbled. Debutant Dearden (37) avoided the Raven-Hill wrath initially but became his third victim in a catastrophic middle-order collapse. Sam Johnson (43no) attempted to get Swaine up towards a defendable total but Thongsbridge bowler Ben Howitt rendered his input moot by taking the final two wickets to bring the hosts to a juddering halt on 151ao. Following rain interruptions, the second innings was revised to a target of 84 from 20 overs leaving a comfortable chase for the in-form visitors. A steady opening then saw two wickets fall in quick succession but Thongsbridge were able to go about their task without too much pressure once Alex Kemp (24no) made his presence felt in a 9-ball pinch-hitting spell to send the visitors to the top of the table after making 88-4 in reply.
Robin Broom continued his personal assault on Premiership bowling attacks with his first ton on the season away at Barkisland as his club Armitage Bridge romped to victory in a hailstorm-affected match. Broom (115no) took the Barkisland attack to task with a punishing 98-ball innings that contained 10 fours and 6 maximums, taking his own run tally to over 300 runs for the season. Several others contributed to an Armitage Bridge score of 268ao and Jake Finch (4-81) took four wickets for the hosts. Barkisland lost wickets frequently, aside from Luke Bridges (42), as they busily chased down a revised total of 147 inside 20 overs but the hosts could only manage 120-7 with spinner Faheem Hussain (3-23) helping to keep Barkisland in check.
A couple of starts were made in other Premiership matches before being curtailed by the rain. At Golcar, Delph & Dobcross picked up an early wicket off Umer Yaqoob's first delivery of the afternoon but play limped on for only 14 balls with two interruptions and Golcar at 7-1. Just across the valley, Broad Oak had Scholes' Gharib Nawaz trapped LBW in the opening exchanges but they too were sent off for rain never to return with Scholes on 9-1. At Honley, the home side enjoyed a steadier start on 14-0 before the terminal decision to abandon the match after six overs was made.
No play was possible at Moorlands at home to Shepley and Almondbury Wesleyans at home to Shelley.
Full Scores:
Almondbury Wes v Shelley no play
Armitage Bridge 268 [Rev target 147] (S Matlub 38, R Broom 115; E Carrington 3-48, J Finch 4-81)
*Barkisland 120-7 (L Bridges 42; F Hussain 3-23).
Scholes 9-1 (aband.)
*Broad Oak - DID NOT BAT
*Golcar 7-1 (aband.)
Delph & Dobcross - DID NOT BAT
*Honley 14-0 (aband.)
Kirkburton - DID NOT BAT
*Hoylandswaine 151 [Rev target 84] (H Dearden 37, S Johnson 43no; T Raven-Hill 6-78)
Thongsbridge 88-3.
*Moorlands v Shepley - no play
Jedi Championship
Holmfirth's new overseas made a splash for his new club as they kept Slaithwaite out in a reduced 22-over match. Anas Mahmood (87) proved the difference, and also his T20 credentials with a 47-ball blast to rocket 'Firth to a 174-3 first innings score with Amar Rashid (47no) also contributing. Slaithwaite's overseas Cosmond Walters (56) maintained his impressive start to life at Hill Top with a rapid 33-ball half century as Slaithwaite chased hard but Rashid (3-39) along with Maaiz Khan (3-48) slowed down their progress restricting the home side to 163-9.
Only one other match had players get on the pitch at Lascelles Hall with the home side managing 11-0 off seven overs before being abandoned. Denby v Rastrick, Mirfield Parish Cavaliers v Marsden, Lepton Highlanders v Clayton West and Skelmanthorpe v Elland were all rained off with no play.
Full Scores:
*Denby v Rastrick - no play
*Lascelles Hall 11-0 (aband.)
Almondbury - DID NOT BAT
*Lepton Highlanders v Clayton West - no play
*Mirfield PC v Marsden - no play.

*Skelmanthorpe v Elland - no play.
Holmfirth 174-3 (A Mahmood 87no, A Rashid 49no)
*Slaithwaite 163-9 (W Hussain 28, C Walters 56, S Zaman 25; M Khan 3-48, A Rashid 3-39)
Cedar Court Conference
Upperthong bowling duo Sam Hobson and Jack Brook provided too much of a handful for early Conference pacesetters Mirfield, inflicting a first defeat of the season. Hobson (4-33) and Brook (4-18) put paid to the hosts run chase after Upperthong earlier made 140-7 in a match reduced to 35 overs. Adam Goldthorpe (42) couldn't do enough to inspire his men accounting nearly half Mirfield's 94-9 runs as Upperthong held them back for victory.
Jon Lee and Adam Taylor enjoyed a matchwinning fourth wicket partnership for Emley Clarence at the Welfare Ground to help them overcome Hoylandswaine 2XI. Lee (68no) and Taylor (49) put on 102 runs together in Emley's 177-6 from 30 overs before Taylor was out just short of his half-century. Hoylandswaine 2XI found themselves harassed by the bowling of Kamran Saleem (5-40) as they attempted to chase down Emley's total which was revised to 132, but they finished 13 runs shy, nine wickets down, to earn themselves a bonus point.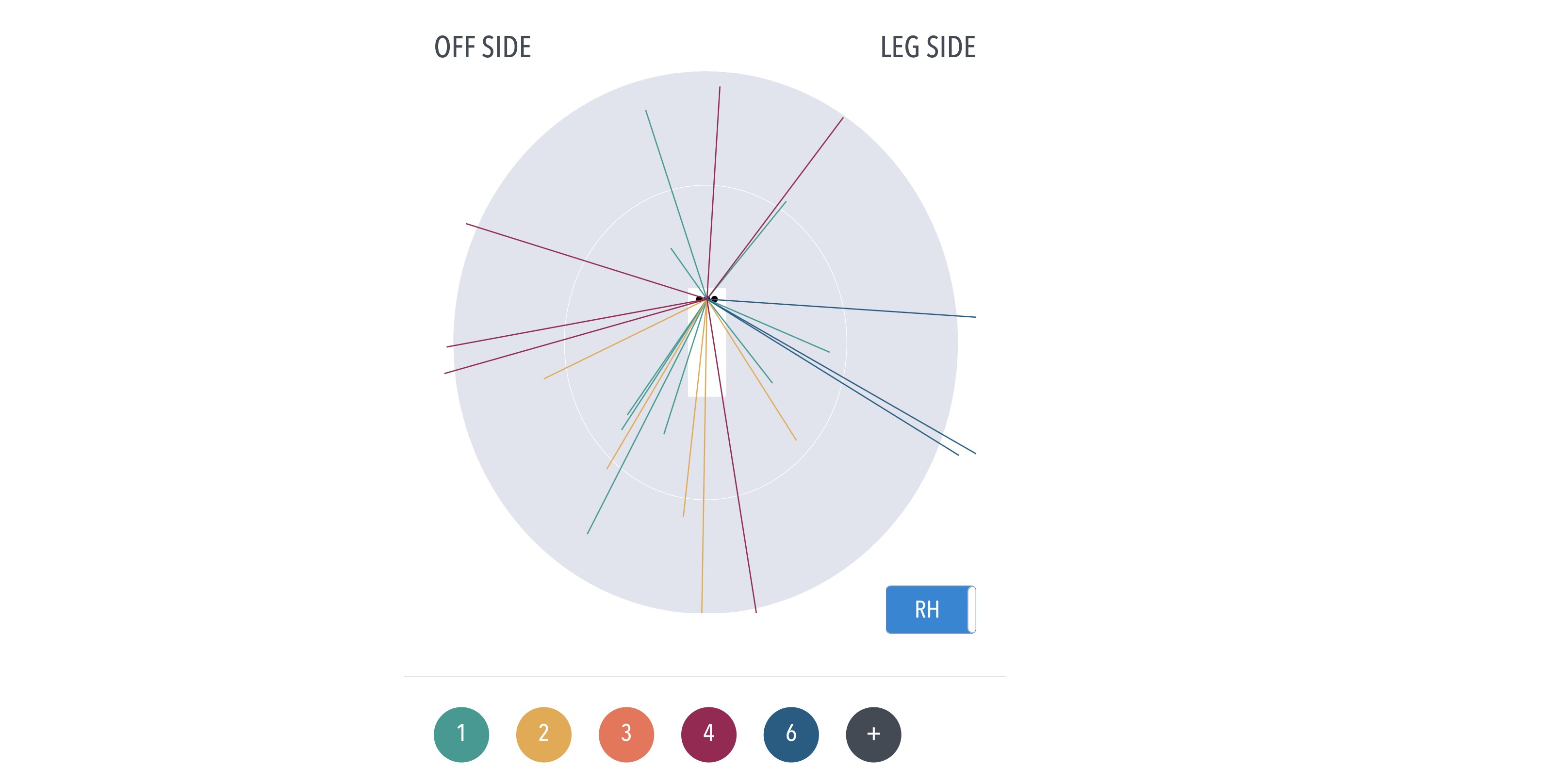 Above: Tom Clarke's wagon wheel graphic for the 61 scored in Denby Dale's abandoned match vs Linthwaite.
Two teams were left frustrated by the weather after enjoying solid starts with the bat. Cumberworth United reached 57-1 at Meltham in 16 overs before proceedings came to a close. Denby Dale had an even better opening by racing to 78-0 off ten overs away at Linthwaite, powered by a half century from Tom Clarke (61no) but no further play was possible.
Thurstonland v Kirkheaton and Birkby Rose Hill v Hall Bower were both completely washed out.
Full Scores:
Birkby Rose Hill v Hall Bower - no play.
*Emley Clarence [revised to 132] 177-6
Hoylandswaine 2XI 119-9
Denby Dale 78-0 (aband.)
*Linthwaite - DID NOT BAT
Cumberworth 57-1 (aband.)
*Meltham - DID NOT BAT
Upperthong 140-7
*Mirfield 94-9
*Thurstonland v Kirkheaton - no play.