The sun blazed and the bars swelled around the grounds on the opening day of the 2019 season which in turn delivered runfests, drama and upsets. Premiership newcomers Almondbury Wesleyans provided the day's highest score and turned over Honley's applecart whilst it was business as usual for champions Hoylandswaine. Newly promoted Marsden edged a Colne Valley derby in the Championship and Linthwaite showed resilience to put their recent troubles behind them to record a morale-boosting win in the Conference.
Drakes Premiership
Freddy Walker unleashed a ferocious assault with the bat to send Honley crashing to an opening day defeat as Almondbury Wesleyans made their presence felt on their Premiership debut. Wesleyans showed character to rebuild from 77-5 with new signing Chris Stott (55) leading the way. It was Walker however that confidently took the game to Honley, who finished in joint second place in the Premiership last September. The overseas crashed 6 fours and a massive 16 sixes in an 82-ball 144no and once Stott departed he was joined by wicketkeeper Jonny Hoyle (44) to take the hosts to a first innings score of 320-7. Honley have a respectable reputation for hunting down daunting targets and with a batting lineup full of experience and batting power you really don't know what a good score is. Yorkshire's Will Fraine was available but once Wesleyans had him and Simon Kelly (29) in the shed control started to switch. New overseas Mel Benito (73) made an encouraging first impression for the visitors with a gritty 100-ball contribution and captain Timmy Taylor (60) played a part in attempting to rebuild the innings. However, the empowered new boys found another gear with the ball thanks to Matt Henshaw (5-69) and snuffed out Honley's reply taking the final four wickets for only 12 runs to leave Honley with a solitary point.
Shepley have signalled their intent this season with some strong signings but their claim was questioned by a spirited Kirkburton side at Riley Lane. Shepley were forced to endure a tempestuous beginning to the day after winning the toss and electing to bat first. Youth combined with wily experience looked to provide the tonic for 'Burton as canny all-rounder Alex Scholefield (3-65) and young prospect Aaron Moore (3-24) - promoted from the 2XI - had their visitors against the wall in the opening exchanges. Lower order contributions steadily pushed Shepley to a more respectable first innings total of 198ao which may still have been tough to defend on an uncharacteristically bone dry first weekend wicket. Still, Shepley's threat with the ball cannot be underestimated when they had their hosts in a spot of early trouble themselves at 22-3. New captain Toby Booth (95) had to summon resilience to guide Kirkburton through some probing questions shepherding the more vulnerable lower order. Once Booth had fallen with the score on 171-8 though it was too much work for 10 & 11 with loyal Shepley servant Danny Glover (4-42) mopping up after taking the earlier wickets at the start of the innings.
Over at Chapelgate, an absorbing match fell Scholes' way at home to Delph & Dobcross. The visitors batting first squandered a prime opportunity to pile on a daunting total to chase and were left to settle on 238-9 from a good platform of 199-3. Opener Mosun Hussain (86) and a half-century from new signing from Greenfield Alex Peters (50) were key to their innings with a five wicket haul from Louis Brook (5-39) curtailing Delph's input. The hosts, missing talismanic Kiwi Joe Carter for the opening two matches, paced their reply with expert precision, seeing off dangerous opening bowlers Muhammad Shakir (3-60) and Umer Yaqoob (4-55) and putting more pressure on inexperienced young spinners Xander Selby and overseas Rehan Afridi. A classy half century from Benji Birkhead (52) helped shrug off a poor start to the reply for Scholes while Tom Brook (77no) never looked troubled even with the openers returning to try and force the crucial breakthrough. In truth, 55 runs in the extras column inflicted too much damage in Delph's attempts to defend their total but Scholes ran out worthy winners on 239-8 with seven balls to spare.
Moorlands, with stand-in skipper Michael Rounding, took six points back down the M62 after overwhelming promoted Barkisland with a hefty first innings total. New signings Michael McEwan (66) and Jason Grosvenor (91no) and Shoukat Ali (40) all made impressive debuts with Darren Robinson's Barkisland were made to suffer in front of their own spectators. Moorlands making a daunting 291-6 target, a chase made all that more difficult after being reduced to 3-2 in the reply. Darrell Sykes 8-48) scythed through the rest with a scintillating bowling display to put the result beyond any doubt as the Premiership new boys wilted in the heat to 105ao.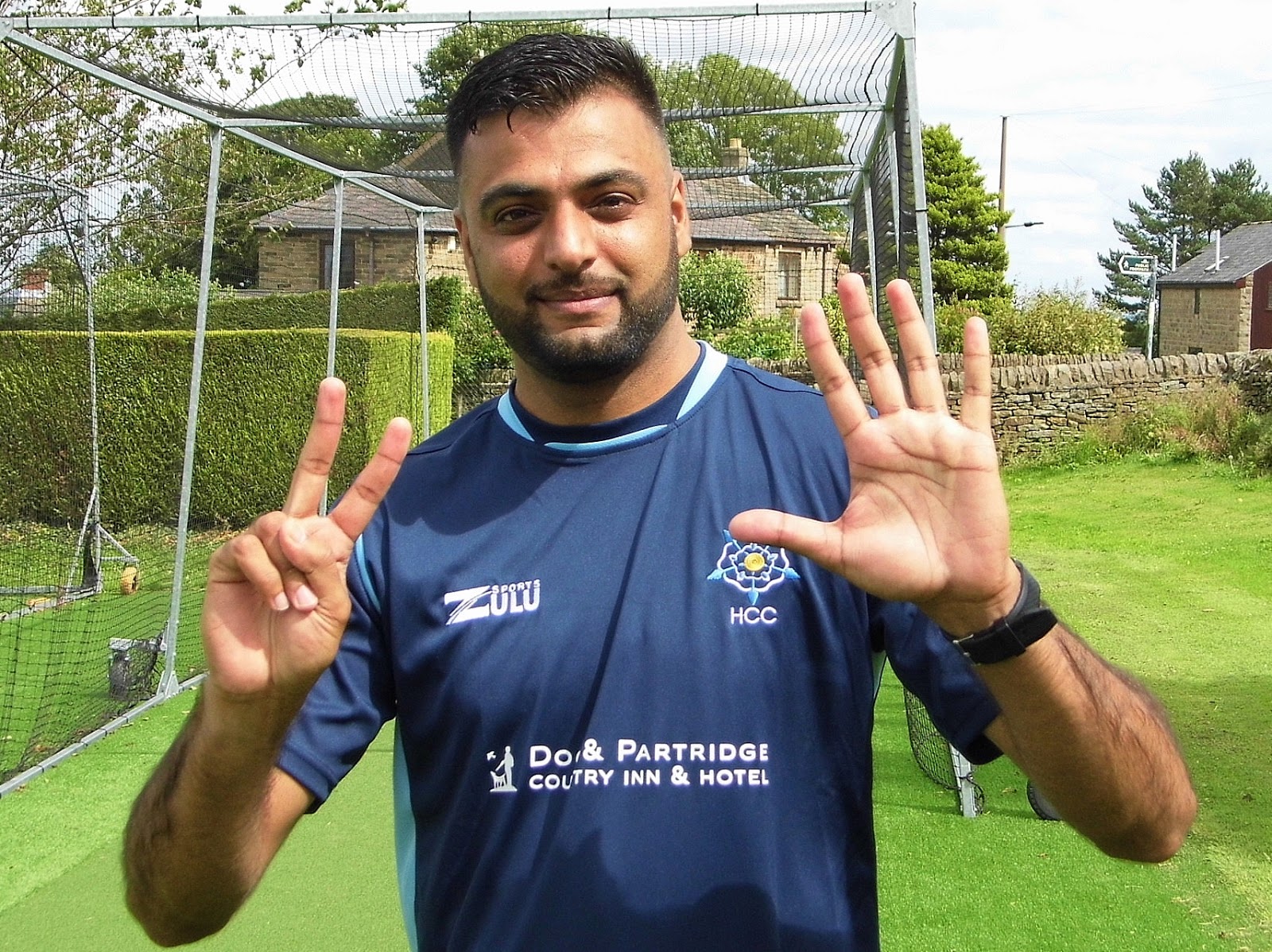 Adnan Ghani (Hoylandswaine) stunned Broad Oak with a 6 wicket blast to propel the champions to the perfect possible start.
Picture courtesy of We All Stand Together blog.
Champions Hoylandswaine enjoyed a routine start to their defence as they bid to keep the Byrom Shield in the Barnsley area for a third successive season. Visiting Broad Oak had no answers to what is surely the paciest attack in the league with new signing Waqas Maqsood combining with Adnan Ghani for a potent threat with the ball. It was Ghani (6-48) that proved to be the catalyst to Oak's downfall as he ripped through the openers and came back on to clean up the tail with the resilient Sean Mee (42) providing the only resistance. Broad Oak's 153ao total fell some way short of knocking Swaine off their stride and even though new signing Brayden Clark was dismissed early, captain SP Singh (70no) and Chris Holliday (57no) made no mistake in wrapping up an easy win for the loss of only one wicket.
Character was shown by Armitage Bridge to ease to victory at home to Golcar who were led by new captain Jack McNamara in his second spell at the club. The visitors laboured to 198-8 after being held back by a tight 15 over spell by spinner Daniel Moorhouse (3-33). Jaycob Curtling (3-55) also put the squeeze on Golcar with opener Abdul Wahid (40) top scoring. Bridge were rocked early on with the top three batsman back in the pavilion leaving the hosts on 21-3. Curtling (64) and Robin Broom (99no) carried their side to a welcome opening day win with a 162-run third wicket stand as Bridge passed their target with three overs left leaving Golcar pointless.
Thongsbridge continue to improve each season and they made an impressive opening statement by nonchalantly sweeping aside Shelley who will be hoping to not endure their struggles last term. Visitors Thongsbridge were always in control at Westerly Lane and restricted Shelley to 185-9. Hasnat Yousaf (44) and Martin Sykes (44no) were joint top scorers for the home side with Ben Balmforth (3-56) and Will Reeves (3-51) - returning following a season at Kirkburton doing damage with the ball. Captain Ben Raven-Hill (73) handed his team a sound foundation to go on and win where Australian Haydn Slodecki (45) duly obliged with Thongsbridge reaching 186-5 inside 34 overs.
Full Scores
*Almondbury Wes 320-7 (W Binns 34, C Stott 55, F Walker 144no, J Hoyle 44; S Denton 3-53)
Honley 252 (S Kelly 29, M Benito 73, T Taylor 60, E Wilson 37; M Henshaw 5-69, F Walker 3-49).
Golcar 198-8 (A Wahid 40, J McNamara 26, D Woodhead 35, C Ruscoe 32; J Curtling 3-55, D Moorhouse 3-33)
*Armitage Bridge 201-4 (J Curtling 64, R Broom 99no).
Moorlands 291-6
*Barkisland 105
Broad Oak 153 (S Mee 42; A Ghani 6-48)
*Hoylandswaine 154-1 (S P Singh 70no, C Holliday 57no).
Shepley 198 (D Glover 27, N Hussain 38; A Scholefield 3-65, A Moore 3-24, J Ahmad 3-74)
*Kirkburton 174 (T Booth 95, J Smith 29; D Glover 4-42, N Hussain 3-24).
Delph & Dobcross 238 (M Hussain 86, A Peters 50, A Hayes 39; L Brook 5-39)
*Scholes 239-8 (B Birkhead 52, T Brook 77no; M Shakir 3-60, U Yaqoob 4-55).
*Shelley 185-9
Thongsbridge 186-6
Jedi Championship
A mouth-watering Colne Valley derby didn't disappoint when newly promoted Marsden made their return after a three season sabbatical at home to Slaithwaite. At first hand it looked to be a short sharp shock to the system after rampant visitors Slaithwaite bowled out the hosts for 114. Sohail Butt (5-24) took the most wickets by routing the lower order but arguably most of the damage was caused by opening bowler Sadaqat Zaman's unplayable opening 3-8 ten over spell. Skipper Benn Thornton will have work to do on his batting line-up the next time Slaithwaite take to the field after they failed to convert the win following a blistering bowling display by the Cuckoos. It was an all-round team effort from Marsden as Sajid Ali (2-30), Mark Johnson (2-23), Jordan Ghani (2-11) and Rijnier Coetzer (3-15) all made vital contributions as Slaithwaite crumbled to 88ao in reply.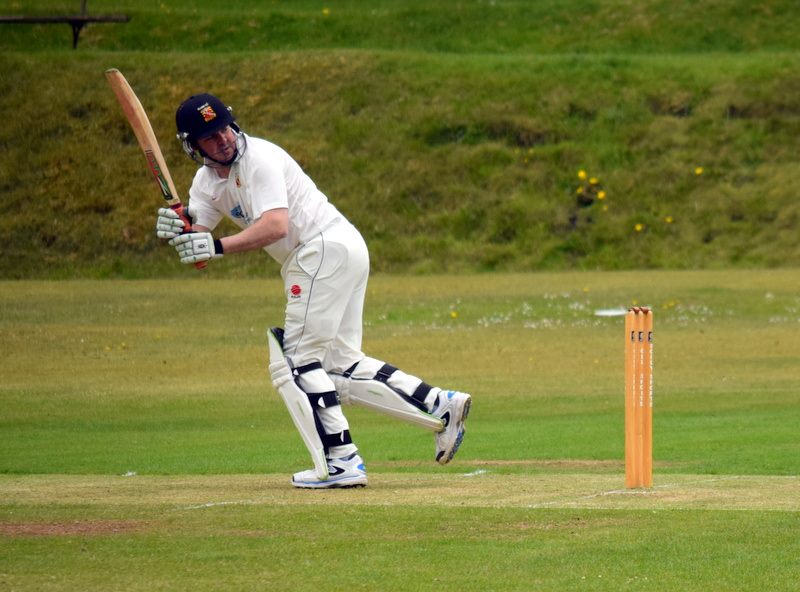 Paul Winrow registered a classy 118 from 129 balls as he helped Elland claim victory at home to Holmfirth.
Elland displayed their intent to make a return to the Premiership. The league's most decorated side made light work of Holmfirth's healthy 202-9 first innings total. Sami Ur-Rehman (69) top scored for the visitors with wickets spread out for new skipper Jack Hendy's men. A top class experienced batsman in Paul Winrow will be vital to Elland's promotion bid this term and he returned a quality 129-ball score of 118 with 15 fours which put the result beyond Holmfirth. Former 'Firth man Greg Alexander (64) also put his old club to the sword as Elland comfortably ran out easy winners on 203-1 with six overs left.
After narrowly missing out on promotion last season, Clayton West have to play catch up already after crashing to defeat away at Rastrick. Tiredness and jetlag had little effect on overseas Asif Afridi as he arrested a wobbly start with a sparkling 81 off 91 balls to set up a solid first innings total of 252-5 for Rastrick. Overseas of the year for 2018 Phil Tunnicliffe (47) made a welcome return for Clayton West and number 3 batsman David Swann (52) put in a half-century but their afternoon didn't improve further as opening bowler Osama Ahmad (6-75) put in a fine display. Clayton West faltered after a reasonable start and the match was in the balance at 183-6 before Ahmad returned to snuff out the tail leaving the visitors 211ao.
An unbeaten century from Sheheryar Hassan (105) helped Lascelles Hall start their campaign with a win at home to Conference champions Denby. Captain Matthew Simpson (76) also piled on the runs as Hall set a 256-4 first innings total. Denby were never in the hunt, their cause not helped by losing the top three batsmen for single figures to Gavin Smith (2-26). Tom Sanders (48) hung around in vain as Hardeep Singh (3-43) helped close off the match and Denby's reply at 135ao.
Skelmanthorpe will be looking for a much improved season after disappointing last season following a promising start. New skipper Luke Webster marshalled his new-look side well as they romped to a comfortable victory at Almondbury. Only one home batsman reached double figures in a submissive 58ao score. New signing Shahzada Khan (8-16) proved irresistible with the ball and Skelmanthorpe completed a thoroughly satisfying one-sided win making 61-4 in reply.
It was one-sided at Lepton Highlanders where relegated Mirfield Parish Cavaliers plans to bounce back to the top flight at the first attempt resulted in a resounding success. Jacob Mullhall, returning to his spiritual home after a season at Golcar has work to do to galvanise his side as Lepton were brutally taken apart by visitors Parish with opening bowler Tom Fretwell (7-31) heavily contributing to the hosts 95ao. With classy overseas Nazar Hussain yet to hook up with them, their victory boded well as Tom Orrell (35) lay the path to victory at 96-4 in reply.
Full Scores
*Almondbury 58 (S Khan 8-16)
Skelmanthorpe 61-4
Holmfirth 202-9 (S Rehman 69)
*Elland 203-1 (P Winrow 118no, C Alexander 64)
*Lascelles Hall 256-4 (S Hassan 105no, M Simpson 76)
Denby 135 (T Sanders 48; H Singh 3-43)
*Lepton Highlanders 95 (T Fretwell 7-31)
Mirfield PC 96-4 (T Orrell 35, D Bolt 32)
*Marsden 114-9 (S Zaman 3-8, A Walker 5-24)
Slaithwaite 88 (A Jakeman 27; R Coetzer 3-15)
*Rastrick 252-5 (M Khan 67no, A Afridi 81, T Barrett 33)
Clayton West 211 (P Tunnicliffe 47, D Swann 52, S Tyas 27, J Ward 32).
Cedar Court Conference
After a season to forget in 2018 it's been a dismal pre-season for Linthwaite following the death of club stalwart Derek Cowgill at the start of the month. They rallied superbly to register victory at Birkby Rose Hill with opening bowler Raheel Akhtar (7-53) showing the character they'll need going forward to bowl out Birkby Rose Hill for 126. An easy win was completed in 26 overs with Linthwaite reaching 127-3 thanks partly to opener Mohammad Umar (43).
Mirfield enjoyed an encouraging start to 2019 with tidy win away at Hall Bower. Their 241ao was enough to overcome their hosts with skipper Deron Greaves (64) getting them off to a good start although the home side would eventually come to rue condeeding 50 extras. Greaves (5-47) then went on to keep Bower in check despite openers Michael Smith (45) and Matthew Crane (62) laying a decent foundation as they slumped from 163-3 to 204ao.
Elsewhere Hoylandswaine 2XI struggled in their first season amongst first teams as they collapsed to defeat at Upperthong. Four wickets apiece for Saif Ur-Rehman (4-27) and Josh Holmes (4-57) wasn't enough to claim victory after failing to chase down Upperthong's 143ao total. Sam Hobson (6-47) became the home side hero as Hoylandswaine were whittled down to 107ao. Meltham need to halt their slide as they subsided to defeat in a low-scorer at Thurstonland with the home side's Tom Broom (4-28) putting the skids under Meltham. Cumberworth United began their promotion bid with a win at home to Emley Clarence as they defended their 155ao total by bowling out the visitors for 103 thanks to Josh Kilner (4-27) and George Parkes (3-30). Finally, Denby Dale enjoyed an easy victory at home to Kirkheaton (92ao) with Fred Stower (5-20) causing damage. Captain / wicketkeeper Matthew Rammell (49no) was the highlight in Denby Dale's 93-0 reply.
Full Scores
*Birkby Rose Hill 126
Linthwaite 127-3
*Cumberworth Utd 15
Emley Clarence 103
Kirkheaton 92
*Denby Dale 93-0
Mirfield 241
*Hall Bower 204
*Thurstonland 131
Meltham 104
*Upperthong 143
Hoylandswaine 2XI 107.