A team will break an unwanted record this season after two of the bottom three teams collected priceless victories to guarantee a relegated Premiership team will sink with a record points tally in the final reckoning in September. Almondbury Wesleyans tossed away a golden opportunity to distance themselves from the relegation trapdoor after they missed out on a crucial win by tieng in a see-saw match at home to Thongsbridge. Relegation-threatened Kirkburton and Delph & Dobcross recorded vital wins to ensure every team in the bottom EIGHT can fret about their futures in a remarkably captivating Premiership campaign. The Championship continues to beguile with Skelmanthope coming good in a must-win tussle at Denby and top pair Rastrick and Marsden made hay with matches running out. Mirfield made headlines with the top Conference score but with the top two losing, promotion is anyone's guess!
Drakes Premiership
Almondbury Wesleyans and Thongsbridge played out one of the most remarkable matches of the season when they were involved in a pulsating tie which doesn't do either side's chances of survival many favours. Hosts Wesleyans were in a commanding position late in the match to convert into a priceless win before losing their last two wickets for one run which left the scores level. Earlier in the match they bowled well to disrupt the visitors momentum after an 82-run third wicket partnership between Rory France (75) and Jack Cassidy (42) threatened to set a tough chase. Nathan Kenworthy (4-35) led his team's fightback as Thongsbridge were forced to settle on defending a 207-9 total. The visitors controlled much of the second innings as early inroads were made by Zafar Iqbal (3-43). At 138-7, hopes appeared slim for Will Binn's side until his overseas Freddie Walker combined with Stephen Fonquernie-Fisher to frustrate the visitors. Together they slowly put on 56 runs to throw the game wide open. Fornquernie-Fisher (36) was then bowled by Ben Howitt to make the score 194-8 which threw more pressure on Walker (29) to carefully guide the tail. Eventually, with two runs to win, Ben Balmforth (2-39) trapped the Australian LBW before switching his sights to last man Dan Payne (14). A rash shot following a scampered single led to a catch by Ben Raven-Hill with the field closed in to leave both teams with three points each.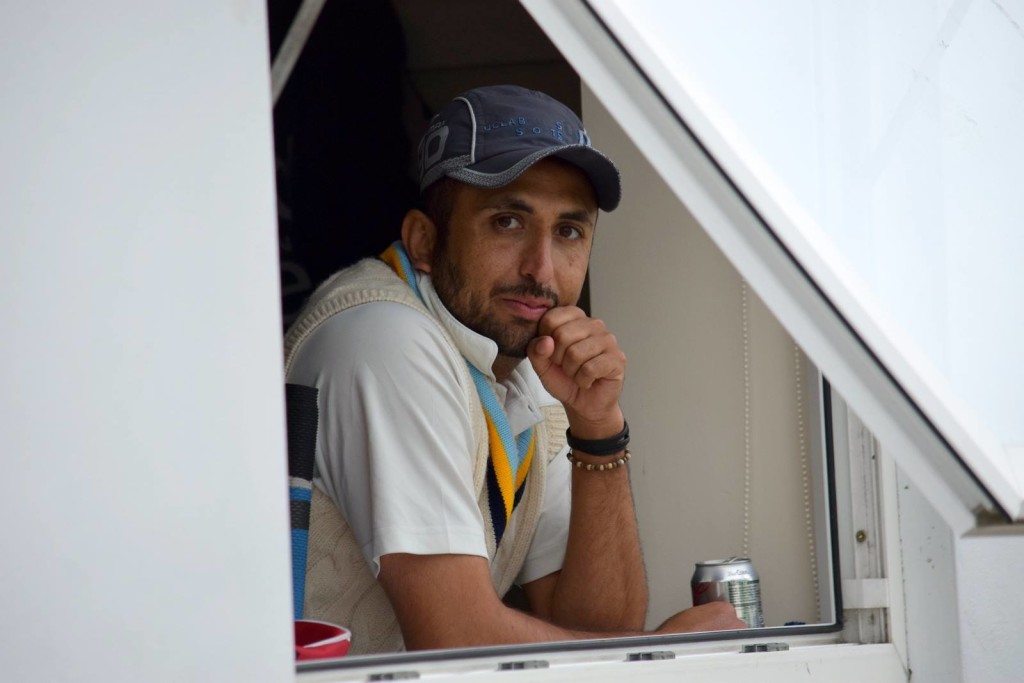 Delph's Muhammad Shakir unleashed a ferocious performance to take five wicket during his side's crucial win away at Barkisland.
Muhammad Shakir produced a brilliant mid-innings spell of bowling to destroy Barkisland in a riveting relegation clash. Delph & Dobcross shrugged off losing an early wicket in the first over after being inserted by their hosts on a tough surface in a match that was reduced to 40 overs each following overnight rain. Adam Hayes (32) and Alex Peters (41) laid on 69 runs to give Mosun Hussain (71no) the opportunity to shine in Delph's substantial first innings score of 216-4. Umer Yaqoob (41no) joined forces to bludgeon Barkisland's flagging bowling as they racked up 76 runs in the last ten overs to set the home side a target of 216-4. Shakir took a change of ends to get his mojo ticking after Barkisland openers George Hampshire (41) and Matty Weston (29) made the visitors worry in an opening partnership of 71. However once Shakir (5-31) settled at his favoured end he instigated a dramatic collapse in the home side with a destructive spell of bowling. The hosts, with scoreboard pressure weighing heavily, soon found themselves out of the match and then fell 18 runs short on collecting a bonus point which would've kept them ahead of their Lancastrian neighbours. They were eventually restricted to 144-8 on a disappointing afternoon which sees them level on points occupying the final relegation place.
A phenomenal effort from Kirkburton batsmen Andrew Smith and overseas Roscoe Tahttil secured a must-win victory in a local derby at bottom side Shelley. 'Burton who have now won their last two completed matches recovered from an uncertain start batting first after Ranjith Bandula-Don (2-56) made an early impression to leave the visitors on 27-2. This snag was brushed off as in-form opener Smith (99) and Sri-Lankan Tahttil (102) piled on a 207-run partnership to take the wind out of Shelley's sails as Kirkburton made 266-4 from their innings. All-rounder Alex Scholefield (5-39) had the bit between his teeth when Shelley's frail batting crumbled once again as their faint hopes of survival took another terminal blow. Smith (3-7) also contributed heavily with the ball as Shelley were dismissed for 88 in 29 overs. The result pulls Kirkburton level with three teams at the bottom but leaves Shelley cast adrift by 25 points with only 30 left to play for.
The bragging rights went Golcar's way in their Colne Valley clash away at Broad Oak which deepened Oak's troubles who are missing crucial players for the run-in. Jack Hargreaves has lost key opening bowler Adam France for the remainder of the season with back issues whilst the talismanic Charlie Roebuck has also been forced to sit the rest of the season out. Dan Taylor (4-32) and Harvey Booth (4-26) stepped up to the mark to bowl out visitors Golcar for 145 with Steve Whitwam (35) making the most runs for the away side. However Will Hinchliffe (3-41) tempered Broad Oak's mood and the afternoon worsened as wicket's withered away. Booth (49) pugnaciously hung on but when he was removed LBW by Golcar skipper Jack McNamara (2-30) the visitors seized their opportunity. Oak rescued a bonus point towards the end which may prove vital in a month's time but they were eventually dismissed for 111.
Hoylandswaine emphatically ended Scholes' fading title hopes in a crushing 5-wicket victory at Haigh Lane. Only former player Gharib Nawaz (38) came away with dignity intact as rampant Hoylandswaine bowlers Waqas Maqsood (4-38) and Usman Arshad (4-18) melted away any resistance with Adnan Ghani (2-27) also chipping in. Replying to Scholes' 128ao, Iftikhar Naseer (35) looked to be a steady proposition as Scholes attempted to rally but the low target wasn't to be an issue. Gurman Randhawa (32) helped finish things off promptly as Hoylandswaine rounded on 132-5 in just 28 overs. Just a week after lifting the Sykes Cup, few would bet against them following it up with the Byrom Shield in a few weeks time.
Moorlands can't afford any slip ups in the final run in as they look to the unlikely prospect of overturning the 14-point deficit. They edged past Honley in a low-scoring match at Far End Lane. Sam Denton (3-21), Max Morley (3-27) and Lewis Kenworthy (3-42) equally shared nine wickets between them as Moorlands were pegged back to 148ao batting first. Half of Moorlands' batsmen reached double figures but were unable to kick on. The home side suffered from a lack of application themselves and couldn't content with the superb bowling of Eddie Walmsley. Simon Kelly (24), Owen Kenworthy (28) and Danny Howard (21) made good early progress but all fell victim to the Moorlands all-rounder. At 125-7 and with just 29 runs to win, the match was delicately poised before Walmsley took his final two wickets along with a run out to leave Honley 13 runs short on 135ao.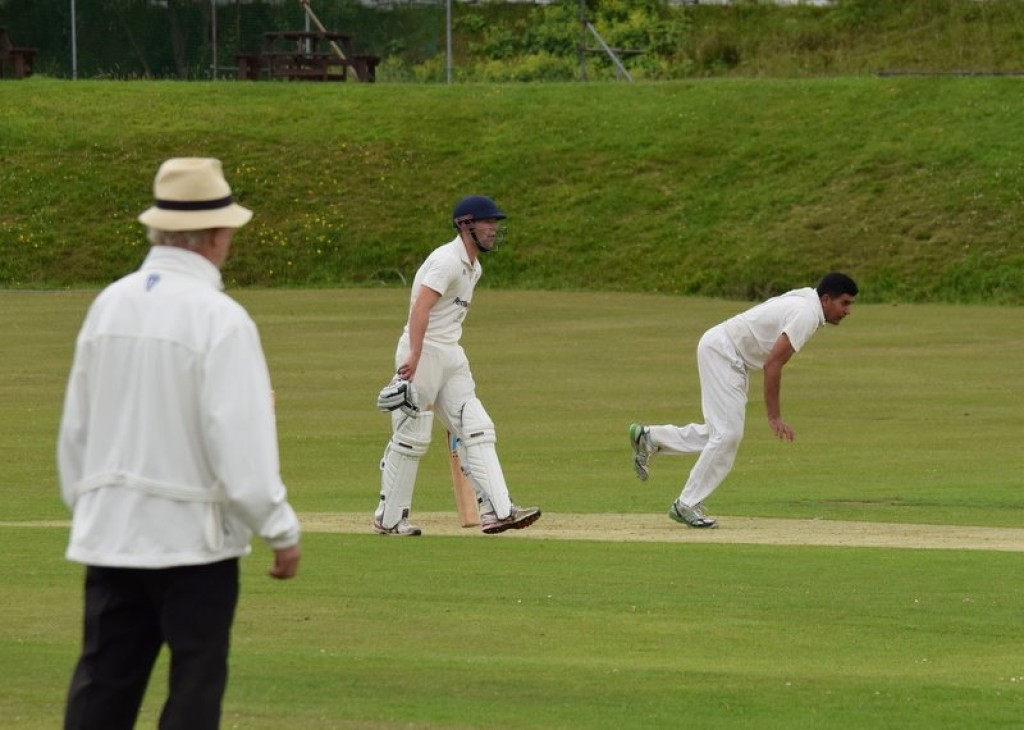 Nasir Jamal (Shepley) made life difficult for Armitage Bridge as he took four wickets to keep them on a tight leash. His side romped to victory in the reply losing no wickets.
A tale of two contrasting halves at Armitage Bridge saw visiting Shepley run out easy ten wicket winners. Greg Wood's side have been rampant since their fine Heavy Woollen Cup success and Bridge were ruthlessly put to the sword to scotch any suggestion that the Marsh Lane side have little left to play for. The hosts were reeling from an opening bowling barrage by Nasir Jamal (4-25) who quickly left his mark with Bridge in dire peril on 11-4. Matthew West (25) helped recalibrate the innings and Marco Van Biljon (60no) carved a painstaking half-century to try and get something to bowl at. They managed to firm up their innings by batting out the fifty overs for 150-7 but it was a total that looked somewhat short of anything to test the on-song visitors. Openers Daniel Wood (79no) and Tom Chadwick (63) made it look easy pickings by effortlessly passing the target on 151-0 from 32 overs played.
Jedi Championship
Joe Sykes' half-century helped hand Skelmanthorpe a lifeline in a vital victory away at Denby to close their gap to safety by 4 points. The Lidgett Lane side's tribulations were soothed when a 108-run third wicket partnership steadied the ship after a turbulent opening spell. Sykes (64) and Haroon Arshad (33) set up a platform however Denby fought their way back into the contest with Aizaz Khan (3-48). Skelmanthorpe battled their way to a 238-9 first innings score to defend in a win-at-all-costs match at their near neighbours, who themselves hope to avoid an instant relegation. The reply virtually mirrored the first innings as overseas Blair Buchanan (4-60) took a pair of early wickets. Mark Askham (41) helped recover the damage with a patient knock with Tom Sanders (40) adding some steel in the middle order. The key to victory lay with former player Mike Kitson (49) and when Arshad (3-44) made the critical breakthrough the end was in sight. Points, however you achieve them can be crucial at this stage and Denby were able to claim two bonus points as they eventually finished 215ao with two overs left.
Mirfield Parish Cavaliers were scotched by Alex Walker (Slaithwaite) as he put in a brilliant bowling display to harm their opponents promotion hopes whilst simultaniously keeping their's alive.
Mirfield Parish Cavaliers' pursuit of the top two hit a snag as they slipped to defeat at home to Slaithwaite. Alex Walker (4-50) assumed control with the ball as Parish crashed to 131ao, with Dan Broadbent (42) top scoring. Chasing the low score was anything but straightforward for Slaithwaite as they were hounded constantly by the Parish bowling attack. Mick Padgett (4-29) was persistent with his lines as several visiting players made their way into their twenties before being dismissed. Cosmond Walters (26), Benn Thornton (26) and Alec Jakemen (20) all made important contributions and at 95-8 the home side looked strong favourites to finish things off. Youngster Joah Bradley (25no) had other ideas and he maturely guided the tail with Tom Graham (15) holding his nerve to inch Slaithwaite over the line on 132-8 after 28 overs.
Rastrick made another tentative step towards the Premiership but were pushed hard all the way by a spirited Lepton Highlanders performance. Visiting Rastrick were restricted to 159-9 with Tom Barrett (27) top scoring on a challenging afternoon for the league leaders. Lepton captain Jack Mulhall (3-55) and fellow opening bowler Adeel Ashreef (3-30) were on the mark but they soon found things tricking in the second innings when Rastrick had their opponents rocking on 22-3. A careful half-century by Sayed Salman (57) restored momentum for Lepton but they were constantly tormented by Asif Afridi. When Afridi (5-18) had hit his 15 over limit though, Lepton sensed they may be able to pull off an unlikely win as Mulhall (21no) chipped away at the target. However Rastrick found another gear to remove 10 and 11 to leave their hosts 8 runs short on 151ao.
Remarkable back-to-back promotions is on the cards at Hemplow as Marsden's bid to return to the top flight for the first time since 2013 progressed further with a comprehensive win at home to Elland. Steve Butters Jnr's half-century help lay the foundation for victory as Butters jnr (52) and Martin Kyle (46) shared 61 runs for the opening partnership. Matthew Butters added 34 before Elland began to fight themselves back into the match with captain Jack Hendy's (5-24) five wicket haul as the final eight wickets fell for only 45 runs leaving Marsden with 180ao to defend. Marsden overseas Alex Lategan (4-40) has been invaluable with the ball and sent visitors Elland spiralling to defeat with a terrific opening salvo. Sajid Ali (3-16) and Rijnier Coetzer (3-54) then closed ranks to snuff out any resistance from the away side as Elland were comfortably defeated on 137ao.
Almondbury's hopes of staying up draw on for another week as their pulse flickered with a win against Holmfirth whose season is coasting to a close. Faisal Usman (88) made a good impression coming in at seven for hosts Almondbury. They were eventually all out for 175 but Usman made sure of the win with a superb five wicket performance. Usman (5-27) scythed through the Holmfirth middle order with good support from the vastly experienced Qasir Rashid (3-16) as the visitors could only reach 113ao in reply.
Lascelles Hall yielded the days lowest score after visiting Clayton West had things all their own way. Hall were undone by a rampant performance from Phil Tunnicliffe and only captain Shaun Woodhams (21) stood in his way, scoring over half his team's run output. Tunnicliiffe (8-24) put in an unplayable 9 over spell and then top scored with 36 opening the batting during Clayton West's one-sided win. The visitors raced to 47-1 in only 13 overs to move up the table.
Cedar Court Conference
Leaders Thurstonland were undone by a magnificent bowling performance by Denby Dale's Fred Stower in the standout match in the Conference. Stower (5-29) clinically extracted the heart out of Thurstonland's chase after Denby Dale made 198-5 batting first with opener Matty Rammell (53) crafting a half-century. Thurstonland collapsed from a decent position of 77-2 to finish 122ao and missed a golden opportunity to move eight points clear at the summit.
Hoylandswaine 2XI couldn't take advantage of Thurstonland's slip-up after Hall Bower out-muscled them in a nail biting one wicket victory. Faisar Siddiq (4-9) made a key contribution to help bowl out Hoylandswaine 2XI for 110 but managed to overcome the light target thanks to a one man show from that man Siddiq. His 62no provided the bedrock of their tense chase as wickets tumbled from 80-3 to 109-9. Siddiq held his nerve to thrash a four to bring home victory on 113-9 after 28 overs.
Former Birkby Rose Hill player Kamran Muhammad (Meltham) smashed a quickfire 41 runs as Meltham strung together another victory to close in on the Conference leaders.
A battle to beat the elements at Meltham paid off after the hosts chalked up another win to keep their hopes of an instant return to the Championship alive in a win against Emley Clarence. The T20 Shield champions drew from their quick-format formula in a reduced-overs match by setting a huge 150-5 batting first with Kamran Muhammad (41) leading the way. Ibrar Hussain (6-11) smashed any hopes Emley had of overhauling Meltham's total as they were scuppered on 73-8 from their 20 overs.
In the other matches, Mirfield helped themselves to a large total batting first at Linthwaite. Two centurians featured with Deron Greaves (101) and Phil Scouller (101) mirroring scores in Mirfield's 338-6. Linthwaite lost by a landslide with Naseer Saudagar (6-39) a considerable factor in their 92ao reply. Nico Georgiou-Nicola (75) earned Cumberworth United a win at home to Upperthong. They successfully overtook the visiting total of 168ao with George Parkes (4-26) ahead in the wickets as Cumberworth replied with 169-6 with four overs remaining. Birkby Rose Hill recorded a back-to-back win at home to bottom side Kirkheaton in a low scoring match. The hosts were bowled out for 115 with Niall Phayer (4-21) reaping the benefit but Birkby responded strongly dismissing Kirkheaton for 100 with six wickets shared between Samad Hussain (3-27) and Qazafi Amir (3-8).