Quicklinks
Premiership | Championship | Conference | Premiership Two | Championship Two | Conference Two
Click here to go back to the 2016 results page.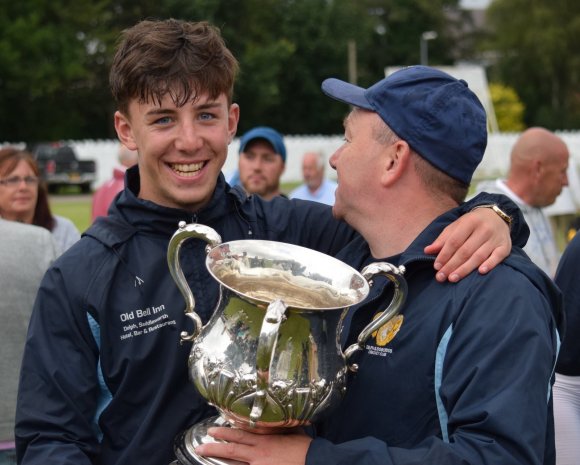 Lancashire U17 player Nathan Jones (pictured, left) was Delph's man of the match on Saturday as relegation-threatened Shelley almost gave the leaders a shock. It was thanks to 16-year-old youngster Jones that his team were left with a fairly modest total to chase after he finished with 5-21 with his off-spin. Delph & Dobcross made heavy weather of their innings reaching the Shelley total for the loss of eight wickets as Hoylandswaine continued to keep the pressure on with a win at current champions Scholes.
Saturday 6th August

Click here for all Premiership scorecards
*Barkisland 169 (J.Keeling 5-39)
Broad Oak 173-4 (J.Hargreaves 109*)
Umpires: (name removed) (1) | R.GARTSIDE (24)
*Barkisland: 0 pts | Broad Oak: 6 pts
Shelley 131 (L.Sykes 32; N.Jones 5-21, S.Muhammad 3-12)
*Delph & Dobcross 135-8 (C.Laker 65; B.Cant 4-35, M.Sykes 3-17)
Umpires: M.ARMITAGE (4) | R.HARRISON (32)
Shelley: 2 pts | *Delph & Dobcross: 6 pts
Elland 164 (R.Broom 40, A.Finn 35*; S.Whitwam 4-51, U.Bandara 4-28)
*Golcar 165-1 (S.Whitwam 78*, L.Aspeling 46*)
Umpires: J.WOOD (53) | C.DAVIS (20)
Elland: 0 pts | *Golcar: 6 pts
Skelmanthorpe 149 (L.O'dea 26, A.Rashid 52; S.Kelly 3-50, L.Kenworthy 3-35, S.Denton 3-40)
*Honley 151-2 (S.Kelly 91*)
Umpires: A.CRAWSHAW (19) | R.TINDALL (51)
Skelmanthorpe: 0 pts | *Honley: 6 pts
Cawthorne 147 (L.Skelly 45, M.Hussain 28*; A.Smith 3-24, S.Sajid 3-49, J.Ahmad 3-39)
*Kirkburton 151-2 (A.Smith 52, S.Evans 54)
Umpires: R.BISSETT (9) | B.DYSON (21)
Cawthorne: 0 pts | *Kirkburton: 6 pts
*Scholes 183 (J.Wharton 35, T.Brook 55; S.Singh 4-43, I.Wardlaw 4-61)
Hoylandswaine 187-4 (A.Morris 77, M.Cranmer 66*)
Umpires: D.COLLINS (17) | D.HAIKINGS (26)
*Scholes: 0 pts | Hoylandswaine: 6 pts
Armitage Bridge 160 (M.West 27, R.Wadsworth 37, A.Gledhill 28)
*Shepley 163-6 (D.Glover 70*)
Umpires: J.BEAUMONT (7) | K.HALLAM (27)
Armitage Bridge: 1 pt | *Shepley: 6 pts

Click here for all Championship scorecards
*Clayton West 207 (D.Barber 36, K.Hitchman 60, A.Clegg 35, B.Oldroyd 26; H.Quarmby 4-38)
Slaithwaite 208-7 (C.Shannon 73; K.Hitchman 4-68)
Umpires: I.LIVESEY (35) | A.WRAY (55)
*Clayton West: 1 pt | Slaithwaite: 6 pts
Rastrick 274-9 (M.Mccoach 48, B.Birkhead 64, J.Vickers 83; A.Hussain 4-33)
*Denby 196 (S.Ahmed 37, H.Jones 26, B.Don 54, A.Ghani 47*; M.Mccoach 3-15, J.Ghani 3-56, W.Javed 3-35)
Umpires: S.ADLER (2) | T.ROCKETT (44)
Rastrick: 6 pts | *Denby: 0 pts
*Holmfirth 196-7 (S.Richardson 102, A.Jakeman 25; S.Bashir 3-52)
Linthwaite 140 (G.Alexander 35, A.Hussain 57; B.Thornton 3-43, M.Gummerson 4-35)
Umpires: D.BEVERLEY (8) | D.SYKES (49)
*Holmfirth: 6 pts | Linthwaite: 0 pts
Moorlands 196 (A.Fortis 42, N.Zamurad 62, D.Winn 25; S.Hassan 4-54, T.Walker 3-51)
*Lascelles Hall 108 (F.Ahmed 25; N.Zamurad 3-41, J.Dubbeldam 5-6)
Umpires: B.KETTLEWELL (33) | I.MELLOR (36)
Moorlands: 6 pts | *Lascelles Hall: 0 pts
Thongsbridge 167-8 (I.Siddiq 63*; C.Kilner 4-25)
*Marsden 138 (H.Bissett 27; B.Mavuta 3-47, W.Reeves 3-11)
Umpires: P.MITTON (37) | S.SYKES (50)
Thongsbridge: 6 pts | *Marsden: 1 pt
Kirkheaton 203-7 (C.French 75*, N.Swift 44; A.Afzal 3-66, I.Hussain 3-32)
*Meltham 204-8 (D.Hinchliffe 54, M.Butt 33, A.Hamid 31; P.Girardi 3-54)
Umpires: M.FORTIS (23) | S.HULMES (28)
Kirkheaton: 2 pts | *Meltham: 6 pts

Click here for all Conference scorecards
Mirfield 268-7 (J.Ramsay 47, A.Pearson 48, A.Goldthorpe 52, A.Young 28*; M.Mobeen 3-71)
*Almondbury 207 (M.Mobeen 58, T.Hameed 58; A.Kazmi 4-49)
Umpires: N.BLACKBURN (11) | R.HEAP (30)
Mirfield: 6 pts | *Almondbury: 1 pt
*Almondbury Wes 300-7 (A.Taylor 31, W.Binns 45, T.Binns 63, J.Gibson 42, M.Henshaw 53)
Thurstonland 168 (M.Oberoi 34, M.Askham 45; M.Henshaw 4-26, J.Atkinson 3-45)
Umpires: T.ATKINSON (3) | Q.COLES (16)
*Almondbury Wes: 6 pts | Thurstonland: 0 pts
Cumberworth United 239-7 (G.Smith 39, J.Senior 25, A.Littlewood 68, C.Kilner 32, B.Wood 38*)
*Birkby Rose Hill 167 (R.Khan 56, M.Kamran 32; G.Smith 4-37, A.Smith 3-63)
Umpires: M.BROOK (13) | G.RANK (41)
Cumberworth United: 6 pts | *Birkby Rose Hill: 0 pts
*Emley Clarence 216 (K.Taylor 95, D.Stratford 73; M.Hale 4-37)
Denby Dale 217-3 (N.Rehman 40, S.Mullavey 115*)
Umpires: M.BROADBENT (14) | D.NUNNS (39)
*Emley Clarence: 0 pts | Denby Dale: 6 pts
Hall Bower 96 (D.Baxter 25; N.Hussain 8-39)
*Mirfield Parish Cav 100-1 (D.Blakeley 37*, T.James 31*)
Umpires: Z.HASHMAT (25) | R.PEARCE (40)
Hall Bower: 0 pts | *Mirfield Parish Cav: 6 pts
*Upperthong 250-6 (C.Swanson 143, R.Briggs 46*; J.Mulhall 4-77)
Lepton Highlanders 64 (J.Mulhall 31; B.Balmforth 4-22, T.Mighall 3-6)
Umpires: T.BALL (5) | S.BARTHOLOMEW (6)
*Upperthong: 6 pts | Lepton Highlanders: 0 pts

Click here for all Premiership Two scorecards
*Armitage Bridge
Honley
*Armitage Bridge : | Honley :
Shepley 98 (D.Lynn 32; D.Taylor 5-22, J.Peacock 4-9)
*Broad Oak 100-0 (S.Peacock 35*, S.Mee 53*)
Shepley: 0 pts | *Broad Oak: 6 pts
Scholes 184 (G.Farma 27, M.Boorman 42, R.Holmes 38, J.Langfield 25*; J.Kilner 3-43)
*Cumberworth United 186-8 (G.Senior 33, R.Smith 28, J.Yates 34, J.Kilner 29*)
Scholes: 2 pts | *Cumberworth United: 6 pts
Kirkburton 181-9 (D.Greaves 31, S.Atkinson 47; L.Senior 4-36)
*Elland 160 (B.Speak 76, J.Crowther 29; E.Booth 3-17, E.Keighley 3-8)
Kirkburton: 6 pts | *Elland: 1 pt
*Hoylandswaine 309-9 (D.Lockwood 46, D.Hoyle 31, S.Marsh 41, B.Potter 48, M.Ihsan 49; J.Finch 3-61)
Barkisland 123 (I.Pollitt 39, C.Friend 25*; D.Lockwood 5-31, J.Lockwood 4-20)
*Hoylandswaine: 6 pts | Barkisland: 0 pts
Golcar 197 (J.Woodhead 30, A.Iqbal 52, H.Gill 58, C.Pearson 25; J.Hepworth 4-22, I.Ahmed 3-37)
*Skelmanthorpe 111 (D.Storey 29*; R.Hall 4-28, M.Brook 3-11)
Golcar: 6 pts | *Skelmanthorpe: 0 pts
*Slaithwaite 274-6 (F.Hajarie 161, D.Massey 34, G.Holroyd 51*; A.Lees 3-42)
Delph & Dobcross 127 (A.Lees 32, D.Jones 28*; H.Garside 4-11)
*Slaithwaite: 6 pts | Delph & Dobcross: 0 pts

Click here for all Championship Two scorecards
Marsden 96 (S.Smith 26; P.Youel 3-24)
*Cawthorne 99-0 (P.Osborne 59*, P.Youel 33*)
Marsden: 0 pts | *Cawthorne: 6 pts
Clayton West 235-8 (J.England 45, C.Bullock 97*, T.Barber 32; J.Dyson 3-58, B.Glover 3-21)
*Denby Dale 115 (G.Shuttleworth 27, H.Rose 25; R.Dennis 3-19, T.Siani 4-20)
Clayton West: 6 pts | *Denby Dale: 0 pts
Lascelles Hall 339-5 (A.Kamran 47, J.Dawson 29, A.Robshaw 88, A.Ullah 38, J.Robshaw 58*, J.Booth 30*; M.Balicki 3-53)
*Hall Bower 110 (J.Greenway 27; J.Dawson 3-8)
Lascelles Hall: 6 pts | *Hall Bower: 0 pts
Almondbury 95 (A.Sharaz 31; J.Galindo 5-36, D.Pauley 4-30)
*Moorlands 89 (M.Nawaz 5-30)
Almondbury: 6 pts | *Moorlands: 2 pts
Meltham 93 (M.Whitworth 26, H.Edmonds 32; M.Ashford 3-23, P.Carter 3-24)
*Rastrick 96-3 (O.Marsh 67*)
Meltham: 0 pts | *Rastrick: 6 pts
*Shelley 119-9 (J.Adams 36, K.Green 26, M.Bhoola 34; J.Payne 3-17, T.Wilkinson 4-8)
Holmfirth 120-1 (J.Sedgwick 75*, S.Johnstone 35*)
*Shelley: 0 pts | Holmfirth: 6 pts

Click here for all Conference Two scorecards
Upperthong 156 (B.Earnshaw 55; S.Grey 5-37)
*Kirkheaton 124 (S.Whitelock 31, W.Hussain 32, S.Grey 26; D.Parr 3-28, A.Morris 3-24)
Upperthong: 6 pts | *Kirkheaton: 1 pt
*Lepton Highlanders 189 (D.Rushworth 89*; G.Gumpert 3-43)
Denby 190-4 (J.Gumpert 75*, J.Hunter 33)
*Lepton Highlanders: 0 pts | Denby: 6 pts
*Linthwaite 285-8 (N.Ali 31, M.Bashir 121*, O.Shaffique 39, A.Afzal 36)
Almondbury Wes 152 (T.Addy 44, D.Flatt 26, T.Jackson 46; N.Ali 3-37, M.Slahuddin 3-44, A.Afzal 4-15)
*Linthwaite: 6 pts | Almondbury Wes: 0 pts
*Mirfield 150-9 (S.Kirkby 38, D.Martin 30; J.Hellings 3-22)
Mirfield Parish Cav 153-2 (E.Hardcastle 52, r.poutney 54*)
*Mirfield: 0 pts | Mirfield Parish Cav: 6 pts
Emley Clarence 71 (P.Metcalfe 3-15, L.Harris 3-5)
*Thongsbridge 73-1 (C.Dimbylow 37*)
Emley Clarence: 0 pts | *Thongsbridge: 6 pts
*Thurstonland 123 (J.Booth 27; Q.Amir 3-17)
Birkby Rose Hill 124-1 (S.Mohammad 33*, Z.Ahmed 50*)
*Thurstonland: 0 pts | Birkby Rose Hill: 6 pts