Click here to go back to the news page.
Law 42: Player Conduct
26th Apr 2018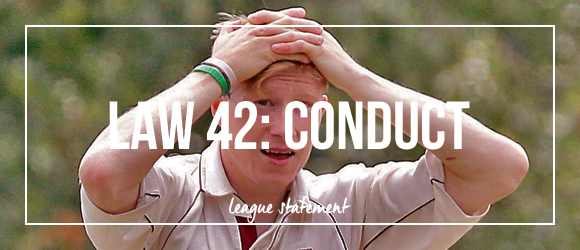 An important new addition to the MCC Laws of Cricket is Law 42 "PLAYERS' CONDUCT".
This Law gives umpires the ability to apply new on field sanctions where a players' conduct is deemed to be unacceptable.
These sanctions include
The awarding of penalty runs,
The suspension of a player for one fifth of the number of overs allocated to the current innings at its commencement
Having the power to direct the captain to remove an offending player from the field of play.
Note that the umpires shall also report any occurrences of unacceptable behaviour to the League, who shall take such further action as is considered appropriate against the captain, any other individuals concerned and, if appropriate, the team.
We expect that this new Law 42 will be implemented in full into all 1st XI Competition and Sykes Cup games, where two qualified umpires from the Umpires' Association will be appointed to officiate.
However, acting on advice from the ECB/ACO the on field sanctions associated with this Law will NOT apply in the 2nd XI Competition and Paddock Shield fixtures, where the majority of games will be officiated by two Club Umpires, and in some cases only one. As in previous seasons, Club Umpires should still report any occurrences of unacceptable behaviour to the League as stated above.
2011 | 2012 | 2013 | 2014 | 2015 | 2016 | 2017