The man from the Black Country, John Cooper, who made Golcar his home and became a loyal batting luminary for the club, has sadly passed away after a battle with bowel cancer. He was 76.

John arrived in Golcar, as a young 22 year old who had played all his earlier career in and around Worcestershire. He attended the King Charles I Grammar School in Kidderminster where he began to learn his craft as a stubborn opening left-handed batsman.

His debut at Golcar in the spring of 1968 started a 37 year career at the Swallow Lane club. His modest season's total in that first summer was just 161 but was achieved with an impressive average of 23 and a high score of 52. The seventies saw that run tally, and average, steadily grow, with a first century of 106no scored in 1978.

John eventually took on the captaincy at Golcar and was known for his intelligent fielding, taking many close catches in the slips and around the gully area. That type of quick-reactionary handiwork saw him deputising as wicketkeeper on occasion, and he also bowled when needed.

By the eighties and into the 1990's, Cooper excelled as a batsman and he made his largest ever total of 134 in a local derby against Paddock in 1981. Then in 1997 he surpassed the league batting record of 16,042 runs, held then by Lascelles Hall and Thongsbridge stalwart, John Shaw.

Perhaps his proudest achievement at Golcar, which he confessed himself, was during his final season in 2004 as they achieved promotion by finishing top of Conference A. He formed part of the spine of the team who transformed from Section B makeweights, to the top flight staple Golcar have since forged. As his career was ending, another left handed batsman was beginning to blossom in Steve Whitwam. Steve, who himself has since taken over as the league's leading run-scorer, describes John:
"The word legend gets thrown around a lot, but there is no better one to describe John Cooper. I was fortunate enough to open the batting with John when I was in my teens, and learnt a lot about the mental approach to batting from him. His cricket record speaks for itself, but as so many people have said this week, he was also a true gentleman. He will be sorely missed, but also remembered fondly by all of us at Golcar cricket club."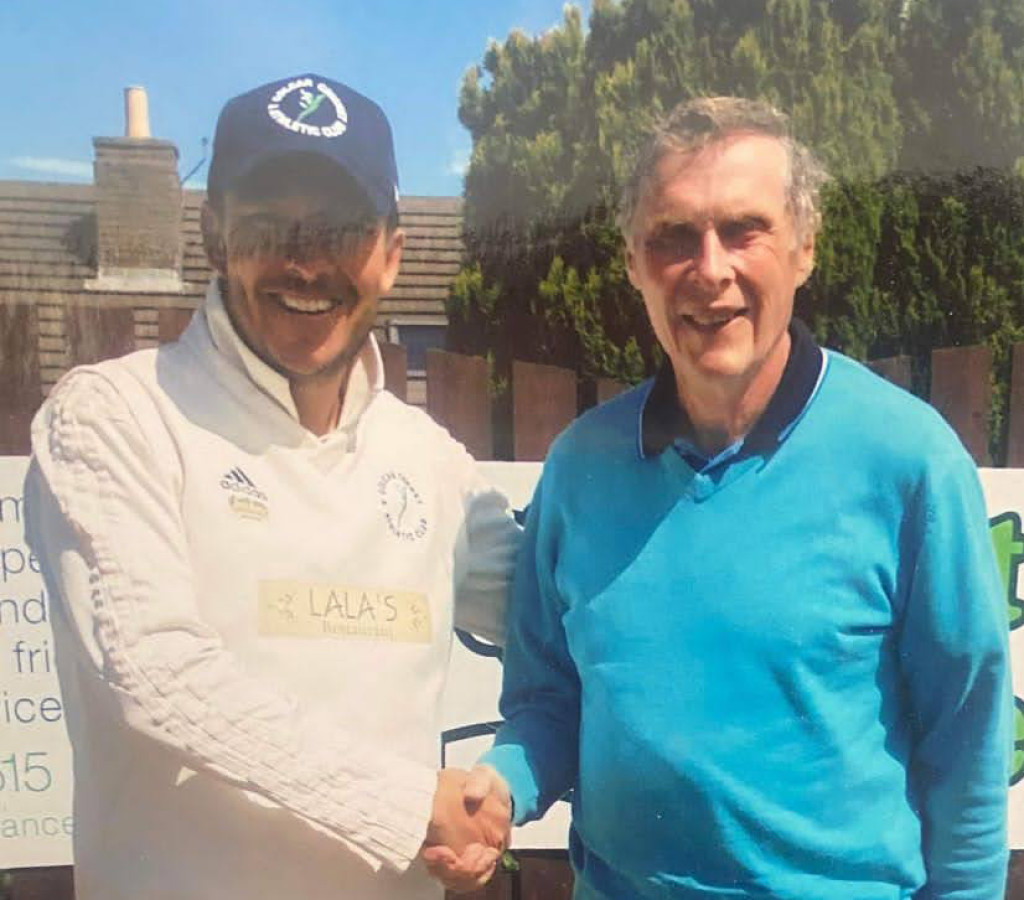 Above, John is congratulating Steve after he passed his league record. Some of the replies from Golcar's social media posts also held him in the highest esteem. Ben Hill, his son in law wrote:
"Despite me being a West Brom fan, John being a Wolves fan and me stealing his daughter, he was always very kind and supportive and a fantastic grandad to my two. Their excellent hand-to-eye coordination is testament to John's lessons in fielding on a Yorkshire beach."
All of us at the Huddersfield Cricket League send our most sincere condolences to John's family at this very sad time. He will be missed.