Click here to go back to the news page.
Youngsters Slip To Barnsley Defeat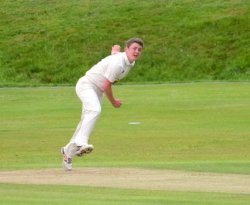 Huddersfield's Joe Lumb U17 team fell to a narrow defeat to a high quality Barnsley outfit by 7 runs in a low-scoring, but absorbing match at Almondbury Cricket Club.
Batting first, Barnsley made 133ao from their innings with Siraj Sajid (Kirkburton) the pick of the bowlers. The young leg-spinner taking 4-29 but wickets were distributed around with Swift (2-22), Balmfirth (1-18), Peacock (1-15) Jack Hinchliffe (1-14 - pictured, left) and Jevan (1-15).
The second innings ebbed and flowed with Huddersfield picking up after a damaging start working their way from 22-2 to 67-4. Kirkheaton's Nathan Swift put in a solid all-round performance hitting 30 with the bat with good support from Harry Bissett (Slaithwaite) but Huddersfield were unable to recover after 3 wickets in 9 balls all-but killed any momentum. A late flurry at the death by Upperthong's Ben Balmforth was too little, too late as Barnsley secured the win. Cawthorne's Connor Thompson finishing the best bowler with 5-35.
News Archives: 2011 | 2012 | 2013 | 2014 | 2015