Click here to go back to the news page.
Play-Cricket Seminar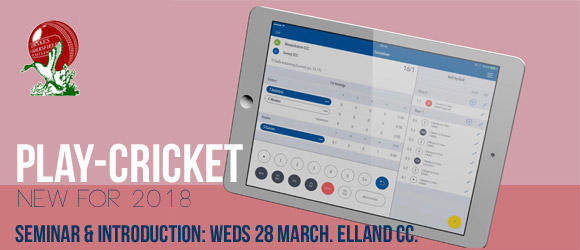 19th Mar 2018
For the 2018 season, the Drakes Huddersfield League will be utilising the ECB Play-Cricket platform for recording, scoring and submitting all senior cricket results. This decision comes after over a year of testing at junior level, ensuring that play-cricket satisfies our needs to modernise our stats and results reporting. The move to use Play-Cricket will also see a complete redesign of our website in April which will integrate the scores, tables and stats within our own domain.
Further to the decision by the DHCL to implement Play-Cricket for the 2018 season a seminar has been arranged as follows:
Venue: Baines Hall, Elland CC
Date: Wednesday 28th March
Time: 7:00pm
Who should attend?
At least one person from every club should attend, but primarily Main Administrators, Team Managers & Scorers. Since team captains will also be involved in some of the administrative aspects of Play-Cricket (in most cases taking the place of "Team Managers" on match days) ALL team captains have also been asked to attend the Play-Cricket seminar.
NOTICE: Scorers
Scoring digitally is NOT a prerequisite. You can still score traditionally if you prefer in a book and manually update Play-Cricket before midnight on a matchday. However you will not be able to project live scores unless you are scoring via a digital source (tablet / laptop).

Members of the ECB Play-Cricket Helpdesk will present an overview of Play-Cricket followed by a Q&A session.
In particular they will demonstrate the following workflow:-
- Registration of Players [Main Administrator]
- Creation of a Squad of Players [Fixture Administrator]
- Selection of a Team from that Squad [Fixture Administrator]
- Creation of a Friendly fixture [Fixture Administrator]
- Game set up on phone/tablet [Scorer/Results Administrator]
- Scoring using the Play Cricket Scoring App* [Scorer/Results Administrator]
- End of game and what happens if electronic scoring is not used [Results Administrator]
- View scorecard etc on website [everybody]
* The Play-Cricket Scoring App is FREE and available from Google Play Store and Apple equivalent..
---

News Archives: 2011 | 2012 | 2013 | 2014 | 2015 | 2016 | 2017